In the past years, few new introduction on the ammunitions market has turned into such an instant favourite between hunters and sporters: Ruger's .204 caliber and SSK Industries' .300 "Whisper" literally conquered the "hearts and minds" of shooters and hunters alike for their great performances in terms of accuracy, range, and terminal ballistics. Black Hills Ammunition, one of America's top ammo manufacturers, simply couldn't ignore it; hence why great additions to their products line for the year 2012 are two new loads for each of these two hard-hitters!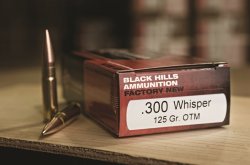 Black Hills Ammunition, Inc.
The .300-Whisper cartridge is the brainchild of JD Jones of SSK Industries, and has been around a long time as a proven wildcat cartridge, even at one time seeing some limited military use by operators who needed a very quiet but effective weapon combination. This versatile 30 caliber round is designed primarily for use in M4/M16/AR-15 family of rifles and allows for use of a wide weight range of projectiles, providing an array of effective ballistics from light bullets essentially duplicating the ballistics of the 7.62x39 AK-47 round, to heavy 220 grain bullets fired at subsonic velocity in the 1000 fps range. Initial Black Hills loads for this cartridge are a 125 grain load that essentially duplicates 7.62x39 ballistics, but with far superior accuracy, plus a 220 grain Sierra MatchKing at subsonic velocity. This ammunition is also compatible with weapons chambered for the 300 AAC Blackout.
Black Hills Ammunition, Inc.
Another new introduction by Black Hills is the .204-Ruger, the highest velocity round available in the AR-15 platform and a terrific varmint cartridge in either AR-15s or bolt action rifles. It has essentially no recoil while providing velocity above 4000 fps. This cartridge was developed by Hornady, and is now loaded by Black Hills Ammunition using .204 Ruger using either the explosive 32 grain VMAX™ bullet, which provides a great combination of high velocity, devastating effect on varmints and sub minute of angle accuracy, or the 69 Gr. "Match King" bullets from Sierra.