Baschieri & Pellagri's history is one of continuous innovation, never forgetting the great tradition that accompanies culture and hunting. This is demonstrated by the many successes achieved and the constant appreciation of the hunting people from all over the world, who in its many years of activity saw the Bologna-based Italian company produce powder, ammo and components of unsurpassed quality.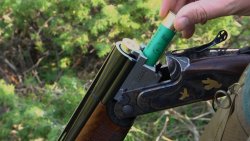 Attention to the diverse preferences of hunters and the will to satisfy them in the best way led Baschieri to develop a great variety of lines dedicated to wild game and specific types of hunting. One example is the ammo range we're talking about, that brings back a great gauge from the past, but with the latest powders and wads. There are five loads in 16 gauge that Baschieri offers for both small and medium size game, up to a version for boar hunting featuring a Thrill Shock ball.
This video has been hidden because of an external service (YouTube) that could potentially collect personal data.Allow video services for the duration of the visitAllow video servicesStop allowing video services
Baschieri & Pellagri cartridges in 16 gauge: the field test
We at all4hunters tested in the field the F2 Classic and the F2 Short Range cartridges. In the first case we are talking about a cartridge with a load of 29 grams of lead available in number 12 - 11 - 10 - 9 - 8 - 7 - 6 - 5 - 4, for different types of hunting ranging from small migratory to non-migratory game.
The wad cup is plastic and allows for tight and effective patterns even at medium and long ranges, thanks to the fast-burning propellant used, the double-base lamellar F2 36 powder. The 67 mm-long plastic shell case can satisfy even the needs of those who still own rifles in 16/65 ga. The second cartridge, the F2 Short Range is certainly more specific for its intended use, an ideal solution for instinctive shots at short and medium ranges, dedicated therefore to those who love hunting in the woods or with dogs and need well-distributed patterns at short ranges. This is made possible by the felt wadding added to a cup to obtain a wide pattern. The F2 Short Range cartridge is loaded with 31 grams of lead available in number 7-8 and 9. The plastic case is 70 mm in this case. Loaded with the F2 powder – reliable in any weather conditions – and Baschieri components, these versatile and effective cartridges reach the velocity of 400 m/s.