Many AR specific gunsmith and armorer's kits have been introduced on the market in the past years, ranging in price from just below a hundred US dollars all the way up to a few thousand. Most, if not all, are meant to be used in the shop, and as such, include a case or box. Wheeler Engineering's new Delta Series AR Armorer's Professional Kit is sold in a portable Nylon bag, which makes it one of the few truly range-ready kits.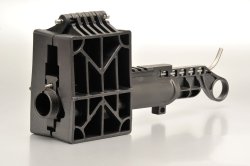 The kit itself is quite complete and very affordable, including all basic tools that a gunsmith or advanced shooter would need to  complete a full rifle build, make repairs or perform routine maintenance on standard caliber  AR-15/M16 rifles.
The kit includes everything, that is, except a bench vise, of course;  and therefore, specific operations such as changing a barrel cannot be performed in the field, although many ranges do offer a generic vise for use by its customers.
The black nylon bag is of decent quality and is styled as a classic range bag, with a twin zippered top main compartment and two large side pockets, also closable with zips, and offers a lot of space to accommodate additional tools and spares.  The main compartment also features internal side pockets.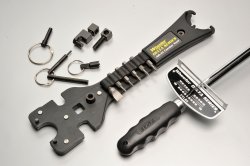 All tools provided in the kit are Delta Series,  manufactured by Wheeler Engineering, a brand owned by Battenfeld Technologies. Each one of the 19 tools included is designed to perform one or more specific functions, and some can actually replace three or more dedicated tools.
Quality of the tools provided ranges from excellent to good, with one exception: the plastic strap wrench, which looks way too flimsy for our tastes, although we have to confess it did not fall apart when we did attempt to use it- and indeed it did get the job done.
The base of the kit is the "AR Armorers Vise", which is actually a plastic and sheet metal base that features a swiveling and adjustable magazine well block and barrel rest which are used to hold and fasten the lower receiver during maintenance. It doubles as a rig to perform bolt stripping (including the ejector disassembly), and as a stand to clean and operate on the upper; the distance between the plastic mag block and barrel rest can be easily adjusted to accept different barrel lengths.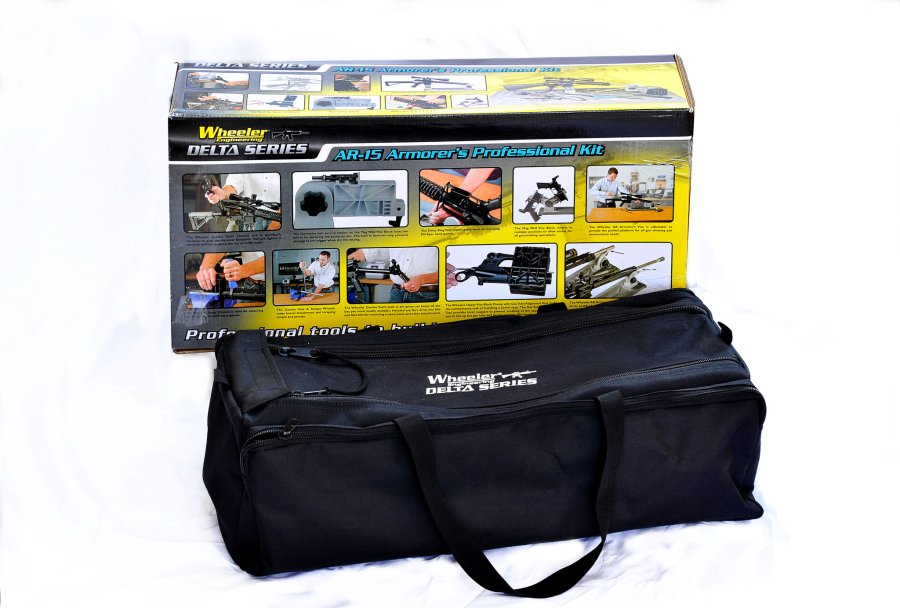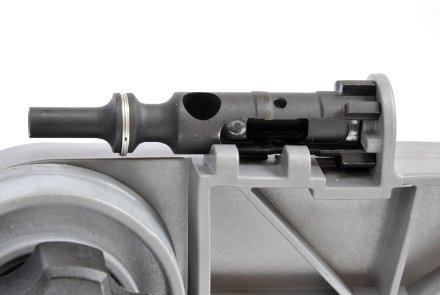 To replace or assemble barrels, an Upper Vise Block Clamp with Gas Tube Alignment Tool, a Torque Wrench and a multifunctional AR15 Combo Tool are included, all to be used with a good quality and bench affixed vise.
An accessory which proved to be invaluable is the rolled Maintenance Mat, made of a dark gray no-mar, padded neoprene surface with a non-skid rubber backing.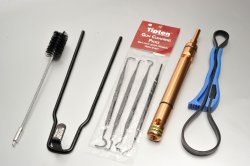 Heavy enough to stay put on the workbench (or any flat surface), it's oil and solvent proof and helps keep track of all bits and pieces, thanks to the exploded view of a standard AR carbine.Other small tools include a Pivot Pin and Roll Pin Installation Tool, an AR Front Sight Tool (4-prong), a Delta Ring Tool to pull back the Delta ring to remove the standard mil-spec hanguards, the AR -15 Adjustable Receiver Link, an AR-15 Bore Guide to simplify barrel and upper/lower cleaning (together with the Bolt Carrier, Chamber, and Bore Brushes, plus a Magazine/Upper Receiver Brush and a Nylon Brush Handle), a cleaning pick set, and finally a Double-ended General Cleaning Brush.

Wheeler Engineering's Delta Series AR Armorer's Professional Kit is a perfect "starter's" kit, offered at a very affordable price (MRSP is 259.99 US Dollars, street price may be less) which can be easily integrated with a few more tools of personal preference; we have added a multitool pliers kit, a proper hex-bit holder and handle, and a proper cleaning kit (we suggest for most of these additions to check out Battenfeld Technologies' website).