Formerly known solely for its extensive airguns production, the German-based Umarex company has long been active in the manufacture of a line of accessories under the Walther brand. New for this product line at the 2016 IWA expo in Nuremberg was the Walther PRO line of flashlights, offering several entries for utility and professional purposes, all built around a reflex-proof hard-anodized aluminum alloy body.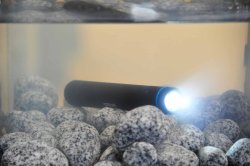 The smallest entry of the line is dubbed the PL60; barely 14 centimetres long and 85 grams heavy, it offers 425 lumens in a pocket package, and is also available in a variant dubbed the PL60RS – coming issued remote activation switch to be used as a gunlight if need be.
The XL3000r is definitely the brightest model of the line, being 41 centimetres long and over 1,5 kilograms heavy, and sporting a three-LED reflector and a blinding 2700 Lumen output for high-intensity utility or professional purposes. The HL31r headlamp is instead fitted with a 710 lumen capable Cree XP-L LED and a headstrap, allowing flexibility while leaving the operator's hands free – a particularly useful item for civil defense or rescue teams. A wide array of accessories – such as road signal cones and color filters – is also available for the PRO line of flashlights.