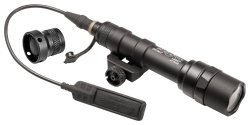 Headquartered in the city of Fountain Valley, California, SureFire LLC. is quite certainly the world's most commonly known manufacturer of hand-held and gun-mounted tactical illumination instruments for civilian shooters and professional operators (Mil/LE) alike. A true pioneer in this field, SureFire has been one of the first ever companies to employ high-reliability LEDs and Picatinny-type quick-attach/detach systems on its products.
Much like it did in the past years, in 2013 SureFire launched a plethora of new products in all its product lines and fields of operation − the latest being the M600U "Ultra ScoutLight" and M620U "ScoutLight", two lightweight, compact weaponlights featuring an ultra-high-output LED that delivers 500 lumens of blinding white light and incorporate a number of exceptional technical features to ensure high reliability and performance even in the harshest operational conditions.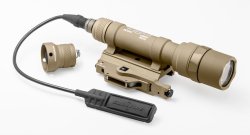 Compact and extremely powerful, the M600U "Ultra ScoutLight" uses a virtually failure-proof LED to produce 500 lumens of output, and it continues producing blinding tactical light for 1.5 hours on a set of batteries. This brilliant output is focused by a Total Internal Reflection (TIR) lens into a far-reaching beam with an intense 13,000-candela central area that also provides significant peripheral illumination, making it ideal for close-to longer-range applications.
The compact size of the M600U "Ultra ScoutLight" − under 5.5 inches long − minimizes added weight, frees up rail space for other accessories, and increases weapon maneuverability compared to larger WeaponLights. It attaches by means of an integral thumbscrew clamp to long guns equipped with a Picatinny rail.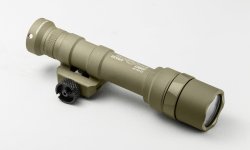 The M600U "Ultra ScoutLight" comes with two switches: a pushbutton tailcap switch (press for momentary on, press further to click constant-on); and a momentary-on tape switch with a 7-inch cable that attaches to your preferred location via self-stick Velcro backing.
Constructed of high-strength aerospace aluminum with Mil-Spec hard anodizing for superior toughness and corrosion resistance, and optically coated tempered glass for maximum light transmission, the M600U "Ultra ScoutLight" is O-ring sealed to keep out the elements. Like all SureFire weaponlights, the M600U "Ultra ScoutLight" is built to withstand the rigors of combat. Available in Black or Desert Tan, the M600U is available at a manufacturer's suggested retail price of 429.00US$.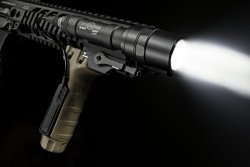 Much similar to the M600U "UltraScoutlight", SureFire's new M620U "ScoutLight" differs from the sister model by its attachment system; as a matter of fact, it will interface to any Picatinny rail via an integral SureFire Swing-Lever clamp. The Swing-Lever clamp provides rapid, secure, rock-solid attachment − even to out-of-spec rails − by moving a single cammed lever, and detaches just as quickly should the need arise.

Powered by two 123A lithium batteries (included) with 10-year shelf life, the M620U "ScoutLight" comes with a high-performance, recoil-proof LED that generates 500 lumens of blinding white light and continues producing tactical-level light for 1.5 hours, and with a Total Internal Reflection (TIR) lens that creates intense, versatile beam with enough reach for longer-range applications and significant surround light for peripheral vision. The SureFire M620U "ScoutLight" sells at an MSRP of 529.00US$.