SureFire LLC. out of Fountain Valley (California), the world's best-known name in tactical lights and accessories, has recently launched its first rechargeable, li-ion battery-powered, Led flashlight, mainly focusing on the law enforcement and professional market, hence the nickname of "Lawman". Dubbed the R1 (assumably for "Rechargeable model One"), SureFire's new flashlight meets the ever-increasing requirement from security professionals for a sturdy and effective lighting instrument that should not completely rely on disposable batteries, of which there might be a short supply in case of a major emergency, just like many of these professionals experimented first-hand during the tragic days of hurricane Kathrina.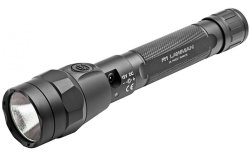 The SureFire R1 Lawman flashlight is built around a single-piece machined, 8.1" long, 1.1" wide, aircraft-grade, Mil-Spec black anodized aluminum tube; it has a 1.6" wide bezel, weights 10.2 oz. with batteries and is available only in black. The threaded extremities for the removable parts (head, tailcap) feature extremely sturdy O-rings to make the body airtight and impervious to water and other elements. The SureFire R1 Lawman flashlight is activated through user-programmable head and tail switches that can provide momentary and constant activation of high, medium, low and strobe output modes. Programming is achieved by rotating the head to the desired position. The virtually indestructible, microprocessor-controlled, high-performance led is protected by a tempered glass lens and embedded in a precision micro-textured reflector that produces a wide and smooth light beam with an intensity reaching up to 16,000 candela.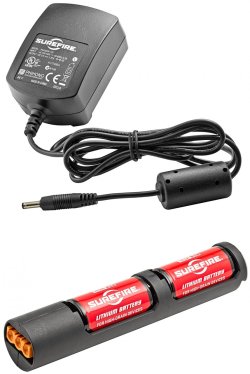 The users of the SureFire R1 Lawman flashlight can choose between two different powering options: standard, disposable CR-123A batteries or the included, rechargeable power pack comprising two Li-Ion SureFire batteries. When on, the SureFire R1 Lawman flashlight will achieve a variable output that can range from a maximum level of 750 lumens to 150 lumens medium and a 15 lumens low; the maximum level will however decrease to 500 lumens if disposable CR-123A batteries are used in lieu of the rechargeable power pack. Runtime in continued use will vary according to output intensity: 1h45min for the higher levels of output, 5h15min for medium-level output, and up to 37 hours at low-level output. A power gauge on the flashlight body will warn the user when it's time to recharge the batteries; this can be done by either one of the chargers sold with the R1 Lawman flashlight kit: an AC adapter (wall charger) with international sockets adapters or a 12v car charger, very useful for patrol officers. The sale kit for the SureFire R1 Lawman flashlight also includes a "Dual Fuel" battery carrier with 2xSF123A batteries installed (an adapter to use commercial, disposable CR-123A batteries), an rubber anti-roll ring, and the user manual. The MSRP for the R1 Lawman flashlight has been announced by SureFire to $455, albeit the actual pricing is around $350 with most of the retailers that already have the R1 Lawman in stock in the United States of America.