Article also available in other languages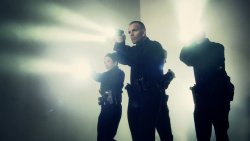 First, there was MagLite: headquartered in Ontario (California, U.S.A.), this well-known company was founded in 1979 to manufacture machined aluminium body flashlights aimed to a civilian and professional market − basing upon projects and prototypes dating back to the 1950s and first made commercially available as the "Kel-Lite" in the 1960s.

Being conceived for Law Enforcement, they were meant to offer high reliability and runtime: for standard D-Cell flashlights using xenon or krypton bulbs, this also meant that they had to be quite heavy and big (often well over eleven inches in lenght!) in order to sport an output that topped a little bit under 150 Lumens, a threshold that was quite high for the time but now largely regarded as very low.
MagLite flashlights are still being manufactured, and enjoy a certain commercial success as utility instruments. However their original xenon and krypton bulbs were made obsolete as the large-scale implementation of light-emitting diodes (LED) technologies in the flashlights industry, in the early 2000s, made it possible to manufacture lighter, smaller flashlights that sported a higher output level.
Unfortunately, despite having been a pioneer in the use of machined aircraft-grade aluminium for flashlights bodies − and having established some industry standards that still apply today! − the MagLite company was sadly too slow in embracing the LED technology. As a result, the past ten years or so saw a lot of important competitors take over its market leadership position.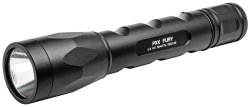 Today, SureFire LLC. is definitely the most important − and most famous − of them all.
Headquartered in Fountain Valley (California, U.S.A.), SureFire offers a wide array of tactical, utility and emergency flashlights, dedicated gun-mounted lights, searchlights, and other apparel including earing protection devices for shooters, STANAG 4179-compliant high-capacity magazines, sound suppressors and silencers for military and law enforcement uses.
Just as MagLite was a pioneer and innovator in the field of machined aluminium flashlight tubes, SureFire was one of the world's first flashlight manufacturers to fully understand the potential of LED technology in this field.
Starting with dedicated weaponlights, then launching a full line of pocket and portable utility and tactical flashlights, all LED-based, SureFire demonstrated to the world that it was possible to obtain a stark reduction in weight and dimensions, a reduction in energy needs, and a decise boast in performance and output levels.
Nowadays, most military, law enforcement and private security operators − in the United States and in the rest of the world − use SureFire tactical lights and weaponlights. The SureFire brand has became what the MagLite brand has been for many years: an equivalent for reliability and quality, with a broad range of possible uses available for its extremely versatile products. Furthermore, the SureFire company expands its products line year after year, keeping the pace with the market demand, the evolution of technology and the most up-to-date operational needs.

One of SureFire's most recent products is the P3X line of pocket tactical flashlights, including the P3X Fury and the P3X Fury Tactical models.
These two flashlights are basically the same when it comes to dimensions and weight, technology and technical specs, and even price. It's thus way easier to tell the difference between the two, as it's just one.
While the P3X Fury Tactical model offers one single output option − a blinding 1000-Lumen output level, with peak beam level of 22,000 Candela − the baseline P3X Fury model can also be set on a very low output level of merely 15 Lumen, which will be way more handy and practical for many other daily uses, from reading a map to opening your front door in the dark of a late winter evening.
On the other hand, the extremely powerful 1000-Lumen maximum output for both models makes them ideal for searching, signaling, or to overpower the dark-adapted vision of a threat.
Both the P3X Fury and the P3X Fury Tactical flashlights feed through commercial disposable or rechargeable CR123A, offering a maximum tactical runtime of 2.25 hours on the maximum 1000-Lumen output setting; the low, 15-Lumen output setting on the baseline P3X Fury offers a maximum tactical runtime of well over sixty hours. After that time, the output level will automatically drop below 10% of the maximum output at each given setting − meaning less than 100-Lumen when the flashlight is set to the maximum.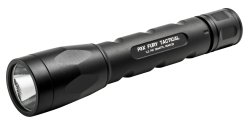 SureFire's P3X Fury and Fury Tactical flashlights are 6.6 inches long and weigh 7.2 inches with batteries; they both sport a virtually indestructible, ultra-high-output LED emitter regulated to maximize output and runtime, hosted in an 1.37-inches bezel, protected by a front coated tempered window lens that will resists impact while maximizing light transmission. A precision reflector creates smooth, optimized beam with plenty of reach and enough surround light for peripheral vision.
Both flashlight bodies machined out of aircraft-grade aluminium, and are sealed with weatherproof O-ring and gaskets against possible external aggressive elements. The Mil-Spec Type III hard-anodized coating offers extreme resistance to scratches, abrasion, and corrosion in even the harshest environments.
The P3X Fury and Fury Tactical flashlights feature a dual-output tailcap switch. The P3X Fury baseline switch allows to press for momentary-on low, click for constant-on low, return to off and then press or click again for high; in the Fury Tactical model, it's press for momentary-on, twist for constant-on. In both cases, the tailcap switch locks out to prevent activation during transport or storage.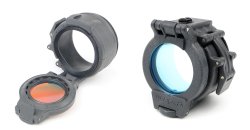 Both models are compatible with SureFire's proprietary accessories, including the FM44 beam diffuse, FM45 red filter, FM46 blue filter, and FM47 beam cover. Spare battery carriers, speed chargers, leather and polymer speed holsters are also available as aftermarket accessories for both the P3X Fury and the P3X Fury Tactical.

SureFire's P3X Fury and P3X Fury Tactical flashlights are already available on the U.S. market, both going at a manufacturer's suggested retail price of 250.00US$ − although the average street price, particularly through online vendors, can be much lower.
Price may − and most probably will − vary in other Countries; perspective non-US buyers should contact SureFire to obtain informations concerning their local or national authorized dealers and distributors.