Article also available in other languages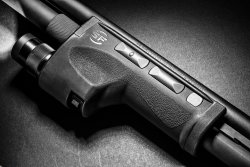 Ask different professional military or Police operators from different Countries what's their favorite pump-action shotgun platform for tactical applications, and most of times the answer will be just the same, no matter the Country or the background: "Remington 870".
Launched in 1951 by the Remington Arms Company and designed by five of the Company's best engineers, the Remington 870 pump-action shotgun saw little overall changes in almost sixty-two years: it was that good already.

Over ten million samples of the dozens of Model 870 pump-action shotgun variants have been manufactured by the Remington Arms Company ever since, and it still today stands as the benchmark by which all other pump-action shotguns are judged... and built, since a number of European, American and Asian gunmakers today offer several pump-action shotguns which are nothing but clones − more or less faithful to the original, depending from the case − of the Remington 870 itself.
The Remington 870 is also the favorite pump-action shotgun of hunters, sportsmen, and generally civilian gun owners and is or was manufactured in 12-gauge, 16-gauge, 20-gauge, 28-gauge and .410-gauge variants or clones.
It's no wonder if the gun paraphernalias market is literally awash with dedicated accessories. And one of the best manufacturers for specifically-designed tactical accessories for the Remington 870 is SureFire LLC.; headquartered in Fountain Valley (California, USA), SureFire is the global name for tactical illumination tools and other tactical accessories − from high capacity magazines to silencers and hearing protection − and has been manufacturing dedicated flashlights and other accessories for the Remington 870 pump-action shotgun ever since it entered the market.

New for late 2013 from SureFire is yet another Remington 870 accessory: the DSF-870. Part of SureFire's WeaponLight products line, the DSF-870 is an improved version of the dedicated shotgun forend that's an already well-established SureFire product.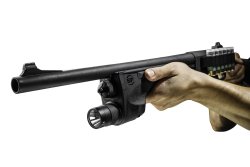 Featuring two levels of tactical illumination, ambidextrous switching, a slender ergonomic design, and legendary SureFire reliability and durability, the DSF-870 is the ultimate WeaponLight for Remington 870 combat shotguns.
This compact, lightweight system replaces the weapon's original factory forend and features a 1.37 inches bezel with a virtually indestructible, two-output LED generates 600 Lumens of blinding light on its max setting for one hour and a half of tactical runtime, and 200 Lumens with nearly twice the runtime on high.

The LED's light is focused by a precision reflector to create a smooth, wide beam perfect for close-to-medium-range shotgun applications typical in law enforcement and home defense − with enough reach and surround light to properly identify threats and maintain situational awareness.
The SureFire DSF-870 features large, tactile momentary and constant-on switches on both sides for precise control by left-handed and right-handed shooters.
Selecting the LED's output is achieved by activating the light in constant-on mode and then pressing the output-mode selector switch until the desired output level (600 or 200 Lumens) is set.
The selected output can then be left in constant-on mode or switched to momentary activation, and it stays at that output level until reset. It also features an integrated system-disable switch to prevent accidental activation during transport, storage, or stealth operations.
A lightweight but strong aluminum module protects the optics, LED, and sophisticated electronics, minimizing length with side-by-side placement of the two CR123A batteries that power the system.

The module has a MIL-SPEC hard anodized finish to protect against scratches, abrasion, and corrosion, while O-ring and gasket seals keep out moisture, dust, and debris. The slender forend body is made from extremely tough polymer and is textured for a secure hold and features large, tactile momentary and constant-on switching on both sides for precise control by left- and right-handed shooters.
This video has been hidden because of an external service (YouTube) that could potentially collect personal data.Allow video services for the duration of the visitAllow video servicesStop allowing video services
Merely 17.8 in weight with batteries, the SureFire DSF-870 forend is compatible with all SureFire accessories: factory disposable and rechargeable CR123A lithium batteries, dedicated battery chargers and spare battery carriers, diffusers, filters and beam covers.
The DSF-870 forend is already available for purchase in the United States at a manufacturer's suggested retail price of 375.00US$ − although street price may vary.
Perspective non-US buyers should inquire with their local authorized SureFire distributors or dealers for availability and price of the SureFire DSF-870 forend in their Country.
Should you live outside of the United States, if you don't know who is your national SureFire distributor or local authorized SureFire dealer, you may inquire about their contact informations with the SureFire international support service.

This video has been hidden because of an external service (YouTube) that could potentially collect personal data.Allow video services for the duration of the visitAllow video servicesStop allowing video services