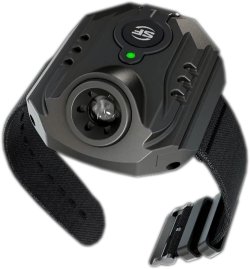 SureFire LLC. out of Mountain Valley (California) is much more than just the "world leader in the tactical lights field": if the first professional-purpose flashlights have been de facto invented by one of todays' biggest competitors (MagLite), SureFire has surely invented and perfected the tactical flashlight and the general tactical use of lighting instruments, with both firearm-specific products and other types of torchlights notoriously apt to be used jointly with a firearm or for duty and professional purposes. By 2012, SureFire aims to solve the problem of how to field a tactical light that might keep the operator's hands free while remaining easy and quick to use without having to mate it with a firearm. The answer is the model 2211 "Wristlight".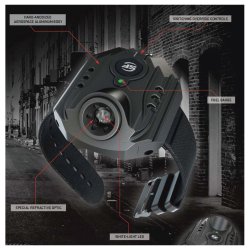 Realized entirely out of machined, hard-anodized aircraft-grade aluminium, the SureFire 2211 Wristlight has first been showcased as an advanced prototype at the 2012 SHOT Show in Las Vegas (Nevada), and its commercial availability is slated for the 4th quarter of the year, with two models planned: a standard one and a "Wristwatch" one that features relocated controls to host a glow-in-the-dark watch quadrant provided by the Swiss company TRASER. Cosmetically dynamic and futuristic, the SureFire 2211 Wristlight sports an extremely low profile that will allow continued carry without hampering the user's normal activities, a paramount for professional operators such as military or law enforcement personnel.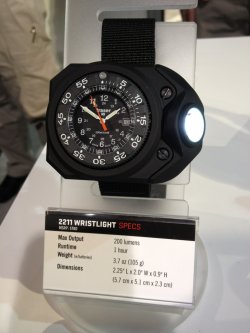 The SureFire 2211 Wristlight sports a synthetic fabric belt with plastic clasp and loops, and is powered through an internal rechargeable Li-Ion battery pack that ensures a continuous runtime exceeding one hour with the light output settings on the maximum level. Lighting is provided by a single, virtually indestructible white light LED coupled with a refractive optic that focuses its output into a single, concentrated beam that can reach up to 200 Lumen. Intensity can be pre-set, and so can be the on/off system. Despite having a manual override command, the main switch for the 2211 Wristlight is provided by a microprocessor-controlled embedded accelerometer that will automatically switch the LED to On when the user moves his/her wrist in the way one would normally draw a handgun out of his/her holster. The type of movement needed for the accelerometer to activate the LED can also be pre-set according to the user's preferences. A single-light three-colors power gauge (red, yellow, green) will constantly keep the user informed of the autonomy remaining with the internal battery.