Spyderco, Inc., one of the biggest names in American knifemaking, recently announced two brand new additions to its product catalogue for mid-to-late 2012.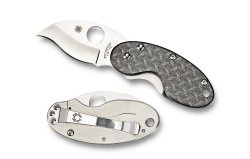 First and foremost, in 2012 Spyderco continues the evolution of the Cricket family by introducing a version featuring the dramatic "Nishijin" glass fiber handle scales. This handsome knife not only gave established Cricket fans a reason to rejoice, but has attracted many new aficionados of the design. As one of Spyderco's most popular and enduring designs, the Cricket has inspired ‒ and will continue to inspire ‒ numerous variations of its classic theme. Its unique, minimalist design and steel pocket clip allow it to be carried conveniently and discreetly almost anywhere on your body and to function as an extremely practical money clip. When opened, its distinctive blade shape provides an outstanding balance of full-service cutting power and extreme control. An enigmatic blend of symbolism, compactness, and high performance, the Cricket is a unique reflection of Spyderco's manufacturing philosophy.
The handle design of the Cricket was inspired by two different concepts. The first was a river rock ‒ a smooth, oval shape polished to perfection by the forces of nature. The other, which is most apparent when the knife is closed, is the yin-yang ‒ the classic symbol of the duality of nature that is a core element of Asian philosophy. All of these elements combined to make the Cricket an incredibly compact, convenient, and easy-to-carry tool that offers an exceptional balance of cutting performance and precision.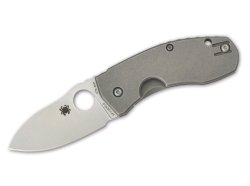 Plus, Spyderco announces for 2012 the start of a − hopefully long and profitable − collaboration with Polish knifemaker Marcin Slysz for the launch of a new folder knife, the Techno, sporting a progressive European appearance. 
The Techno falls into Spyderco's "Little Big Knives" category; meaning it has a smaller blade and handle, paired with a hard-duty locking mechanism, exotic blade steel and vault-like construction found primarily on hard-use, larger knives. The Techno is also the first main-line production Spyderco CLIPIT to use Carpenter's Steel CTS-XHP. Knife steel metallurgists refer to CTS-XHP as having the steel properties and hardness of D2 carbon tool steel but with the added advantage of chromium to classify it as a powdered stainless steel.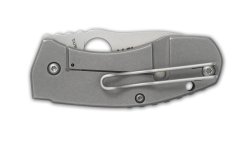 Ground fully flat, the blade has an oversized Spyderco Round Hole and slide-resistant jimping perched on the spine. The handle is titanium with contrasting blue handle spacers leaving the handle open and exposing the inner workings for ease of cleaning.  A Chris Reeve Integral Lock (R.I.L.) incorporates the handle's back scale as the lock.  With the handle's back side doubling as both handle and lock, the need for internal liners is dispensed with, and the knife can be manufactured lighter and slimmer while retaining greater strength.  A deep pocket wire clip can be positioned for left-hand or right – hand use with the blade tip positioned with the tip upward in the pocket.