Capitalizing on the features of best-selling 6004 tactical thigh rig and the newly introduced 6378USN, the Ontario (California)-based Safariland, LLC. company, a leader industry in tactical gear − recently sold by the former owner BAe Systems PLC. group to the Kanders & Company, Inc. acquisition vehicle for $124m − introduces today the brand new 6004USN SLS® tactical holster, featuring SafariLaminate™ construction with a twist: it has a Cordura® nylon covering, offered in a variety of finishes, and designed to provide a low signature to infrared lighting.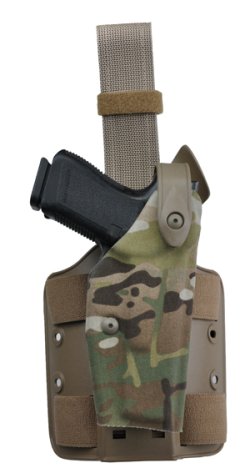 The 6004USN SafariLaminate™ wraparound construction provides the foundation for the holster's shape and strength, and the 500-denier Cordura® nylon allows for a durable, abrasion-resistant outer finish. The Self Locking System (SLS) rotating hood provides excellent retention capabilities and is well suited for tactical situations. This snap-free design allows for a quick and smooth single-motion draw. The molded sight track and soft suede lining help protect the gun's sights and finish, and the dual strap leg shroud with mounting holes allows for optional accessories to be mounted to the rig.
Customizable features of the 6004USN are the inclusion of the Safariland 3-hole pattern for mounting the leg shroud but also the optional Quick Locking System (QLS), which allows the user to mount the holster in various configurations, providing a rapid transition between mounting points.
The 6004USN is currently offered for the following gun models: Glock 17/22, Glock 17/22 with SureFire X200/X300 lights, Springfield 1911-style and similar, and Springfield 1911-style and similar with SureFire X200/X300 or X400 lights. Cordura® nylon finishes offered are MultiCam®, Ranger Green, Coyote, and Khaki. Manufacturer's suggested retail price ranges from US$205.00 to to US$220.00 depending from the model. Prices are for the U.S. market only; no informations are currently available concerning the availability of this product outside of the United States of America, neither is known at the moment whether or not the low-IR visibility feature would make the 6004USN be considered an ITAR-restricted item as per US and international laws − thus extremely limiting its commercial availability. We will of course keep you posted about it, as soon as we will have a chance to speak directly with Safariland LLC.; further informations should be made available during the 2013 SHOT Show.