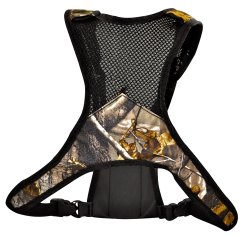 S4Gear is definitely a company dedicated to make innovative, cutting-edge outdoor equipment that gets noticed and supplies an air of confidence to hunters and enthusiasts.
S4Gear is based in Superior, Wisconsin and was born in the woods; providing superior quality, craftsmanship, and technically advanced products that meet the demands of nature and those who tame it, S4Gear is relatively new to the market, yet it has launched in the past months and years a couple of nifty accessories that really hit the spot, quickly gaining a huge market success. Their latest introduction, the "LockDown" binocular harness, may as well be pointed at as a true 21st Century innovation in its sector, and a lot of hunters and outdoorsmen who tried it now wonder how did they survive so long without it.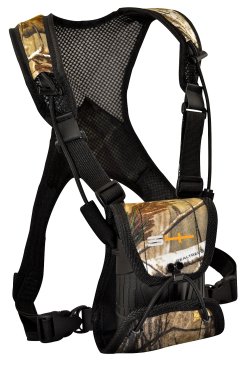 Most binocular straps either have no lens protection at all or have a large, unwieldy storage container that offers no attachment or tether while optics are in use. The "LockDown" provides the best of both worlds using a pliable cover for a low profile fit and ShockCord security straps that fasten the binocular for maximum security.
The S4Gear "LockDown" takes the harness concept a few steps further for even greater comfort and convenience. The strap is designed only for roof prism binoculars, and comes in two sizes for roof prisms between 4.5 and 6 inches long, and those from 6 to 7.5 inches in height. The device also substitutes for the rainguard and objective lens caps. The binocular housing section consists of a semi-rigid, foam-covered shelf that the binocular fits under, and a flexible flap beneath it that can be brought up and locked in place when storing the binocular or protecting it from the elements. The binocular attaches by the strap attachment lugs to a pair of bungee-like cords; then you adjust the tension on those cords so that it fits snugly up under the shelf. The shelf acts like a rainguard, but it's also maintains the tension of the system. To deploy the optic, just grab the barrels and tug slightly down and then out away from you. Available in black, grey and Realtree camo, the S4Gear "LockDown" binocular harness features a housing attached to a broad, padded, Y-shaped strap where the arms of the Y encircle the user's neck and the single straight section goes right down the spine. Two elastic straps at the base of the straight section fit around the midriff and snap into place with double-toothed clasps to the base of the housing. The midriff straps pull the binocular housing tight against the user's body, preventing it from banging on his/her chest. Already available on the U.S. market, the S4Gear "LockDown" harness sells for a price that ranges from $39.99 to $44.99 depending on the version.

---
For further information

S4Gear
1230 Poplar Ave. 
Superior, WI

54880 - U.S.A.
Tel.: +1-866-574-8743