This video has been hidden because of an external service (YouTube) that could potentially collect personal data.Allow video services for the duration of the visitAllow video servicesStop allowing video services
Headquartered in the town of Lyons Falls (NY, U.S.A.), the OTIS Technology company is globally recognized as a leader manufacturer and distributor of top-tier gun cleaning products, used by countless hunters, sports shooters, and professional operators alike. OTIS' most famous products are definitely these small, round, self-contained cleaning kits enclosed in a pocket canvas pouch that any shooter can carry everywhere; available in either "all-purpose" or dedicated variants, OTIS Technology's patented pocket cleaning kits definitely changed the way field gun cleaning is intended.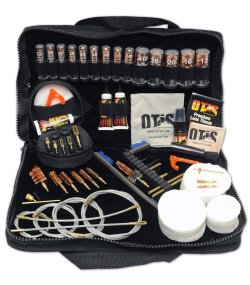 However, such a small item is definitely unfit for the job when you have to take care of multiple firearm platforms, maybe all at once: and that may be the case for a professional shooter, a range armorer, a police or military armorer, and so on. Of course, these professionals and expert shooters and collectors usually have a lot more handy than just a pocket OTIS kit; however, these extensive sets of cleaning instruments conceived for professional use are generally meant to be used on a fixed working position and are less than ideal to be carried on the field or to that very important shooting match at a range miles away that your team or club may be participating to. Of course, OTIS Technology is perfectly aware of this all − and that's why they offer a perfect carry-on professional cleaning kit that offers multi-platform capabilities and a compact package: that's the Èlite Cleaning System.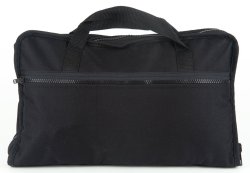 OTIS Technologies' "Èlite Cleaning System" is sold in a black tactical Nylon bag that's perfect for convenient carry, and ispecifically designed for .17 to .50calibre pistols, rifles and carbines, .410 to 12/10-gauge shotguns and all in-line muzzleloaders. It contains over 40 firearm-specific cleaning components, six Memory-Flex cables of varying length for effective and correct Breech-to-Muzzle cleaning, twenty-two bronze bore brushes to remove copper deposits and other fouling, a set of obstruction removal tools for jammed cases and other blockages, specialized precision tools for complete breakdown and fine cleaning of all critical and hard to reach areas of any firearm, optics cleaning gear for care and maintenance of scopes, rangefinders and more, and a removable Tactical Cleaning System (Item # FG-750) for convenient carrying in the field.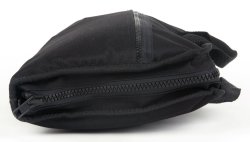 A military-oriented version of the "Èlite Cleaning System" − dubbed the "Deluxe Military Elite Cleaning System" − also exists, featuring all of the above, plus the necessary tools to clean and field-maintain 40x46mm-SR and 40x53mm grenade launchers. Manufacturer's suggested retail price for OTIS' "Èlite Cleaning System" is $149.99 in the United States. Foreign customers should check local availability and pricing through the international network of authorized OTIS Technology distributors.