Outdoor Marketing International, GmbH
Manufactured in Germany, the BoreBlitz is a revolutionary patent-pending gun cleaning tool based upon the well-known "Breech-To-Muzzle" principle used in many similar instruments manufactured and marketed by the US-based OTIS Technology company. Essentially a pull through cleaning device, the BoreBlitz cleans the barrel and chamber of any firearm fast and effectively in shooting direction, without the need to disassemble the gun. The BoreBlitz device is consists of two sponges woven into a textile string, each followed by a rubber ball; it is driven through a pull cord, equipped with a brass weight marked with the specific caliber the BoreBlitz is built for; the user simply needs to drop simply drop the brass weight through the barrel of the unloaded firearm and pull the device through the barrel; the BoreBlitz can utilize cleaning liquids (such as the supplied non-hazardous 3 in1 Cleaner-Lubricant-Protectant "CLP") to neutralize and absorb powder residues, the most destructive hazard for any barrel, as they react with oxygen and cause oxidation and cause accuracy deterioration.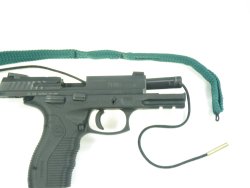 Outdoor Marketing International, GmbH
The BoreBlitz is compact and simple to use, without assembling brushes or any other instruments, right at the shooting range or directly after the hunt. Simply put, it is an ideal companion to any OTIS Technology cleaning system... and, as a matter of fact, that's what OTIS Technology itself realized! Being available in a wide array of calibers, for both civilian and military firearms, the BoreBlitz has outstanding potentials which have so far found acceptance only on the European market and in a limited number of other Countries through BoreBlitz authorized distributors. Yet, BoreBlitz might soon become an international hit, as the German parent company recently announced to have reached an agreement with OTIS Technology for the global distribution of this great cleaning tool.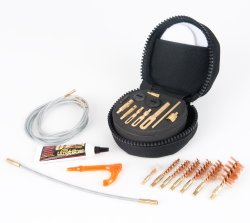 The BoreBlitz cleaning tool is sold in a plastic package, and comes with a plastic handle, a bottle of cleaning solution, and a plastic pouch for clean storage or carry. The materials it is made of − including sponge and rubber balls − are chemical-resistant and can be cleaned with warm soap water when changing oils/solvents or for general cleaning. Whatever combination of liquids the shooter decides to use with BoreBlitz – the rubber balls, with their carefully dimensioned pressure contact to the entire barrel surface, will make sure that the barrel is dry and ready to shoot after every pull-through. Without the danger of a different point of impact caused by an "oil-shot".
The BoreBlitz cleaning tool will thus soon be distributed through the international network of OTIS Technologies authorized distributors: see the list to find one close to you and ask further informations!