Red dot sights are a fundamental accessory even for carry handguns nowadays, and basically no serious gun manufacturer can do without red dot-ready variants in its product lineup.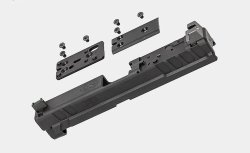 Unfortunately, owners of Springfield Armory's XD full-size pistols did not have many options for adding a reflex sight to their guns – until now: Springfield Armory has announced the release of new XD OSP (Optical Sight Pistol) slide kit and assembly options for the original XD line of full-size pistols. 
"These 4" 9mm kits and assemblies provide original XD owners OSP capabilities as well as the ability to convert certain XD models to a full-size 4" 9mm configuration. The slide assemblies, featuring included cover plates, are cut to accept OSP optics mounting plates available for a wide range of popular optics." 
The included iron sights allow the user to co-witness with certain optics and retain the ability to utilize back up iron sights if needed. 
Three options for your XD pistol
Three options are available: the XD OSP slide only assembly, the XD OSP slide and barrel assembly, and the XD OSP slide assembly including Crimson Trace CTS-1500. The first option is an OSP-cut slide assembly for an XD 4″ 9mm pistol along with a Springfield Micro footprint optics-mounting plate. It is designed to convert an XD 4″ 9mm to an XD 4″ 9mm OSP, while utilizing the original pistol's barrel and recoil spring system. With this assembly, you can easily swap out the slide on your 4″ 9mm pistol to gain OSP optics-mounting capabilities. MSRP for the XD OSP Slide Assembly is $270.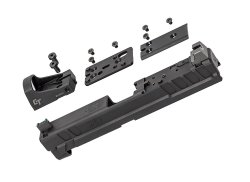 The second option provides users with a complete OSP-cut, full-size XD slide assembly packaged with a recoil spring assembly, barrel and an optics mounting plate in the Springfield Micro footprint – the plate accepts optics like the Shield SMSc and allows for co-witnessing with the iron sights. MSRP is $396. With this XD OSP Slide Kit, you can convert the following XD variants to a full-size 4″ 9mm configuration featuring OSP capabilities: XD 5″ 9mm to XD OSP 4″ 9mm, XD 4″ .40 to XD OSP 4″ 9mm (with purchase of 9mm magazine), XD 5″ .40 to XD OSP 4″ 9mm (with purchase of 9mm magazine).
Lastly, the kit that includes an XD OSP slide assembly and a Crimson Trace CTS-1500 red dot optic and optic mounting plate comes at $369. This assembly also converts the XD 4″ 9mm to XD 4″ OSP 9mm only.