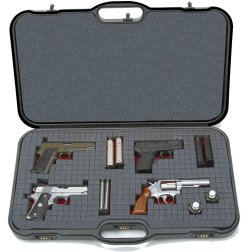 Negrini S.r.l introduces the Tactica Concealed Carry line of lightweight travel and security cases dedicated to shooters and collectors of tactical weapons and handguns. Designed specifically for today's handgun and tactical weapon shooters, Negrini's Tactica CC cases hide their intended use with attractive Italian design instead of looking like typical gun cases. The Tactica CC cases also offer unique flexibility through the use of ultralight ABS double wall construction coupled with modular, transformable inner sections of dense die-cut PixelFoam, which allows the shooter to easily fit any weapon or accessory as well as add new internal sections for use with different weapons. Thus, one case can serve multiple functions with perfect fit. Negrini Tactica CC Series cases come in 8 sizes to fit from one to 6 handguns plus AR Take-Down, AR Carbine and double AR Rifle Case. Using their more than 30 years of materials and design expertise, Negrini design team has created a family of gun cases that are simply as good as it gets.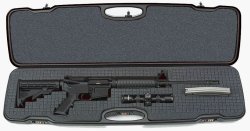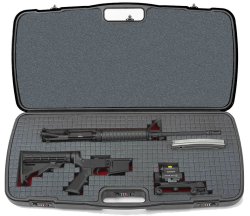 The Negrini Tactica Concealed Carry line of cases is manufactured in Italy using a patented double wall technology making it the lightest weight case available with International Air Travel Certification. New ultra-tough high rubber content multi-layer ABS is thermoformed, seamed and welded using Negrini's patented ultrasonic welding and liquid ABS bonding methods. The resulting double wall system that is uniformly strong, absorbs maximum shock and has the highest strength to weight ratio of any case made. The multi-layer ABS is a technical polymer which, unlike wood based cases, has nor water content and is guaranteed to be free of corrosives at extreme temperature ranges. The signature gray gasket band around the entire case is actually designed to enhance the seal of the case to further protect the firearms.
It is on the inside that the Tactica cases differ the most from all others. Negrini's PixelFoam® allow the user to configure the case as needed to any firearm that needs to be carried. By simply removing the pixels that are not needed, the case quickly custom fits the firearms for safe and secure transit. Additional PixelFoam inserts can be purchased for all models and used to fit other weapons as needed.
The inner upholstery utilizes a special cotton/acrylic fabric that is laminated with technical poly foam. The lamination is made by melting the surface of the poly foam and applying a solvent-free cement from natural resins and then applying the fabric. All the materials used in manufacturing of Negrini are corrosive free substances and do not out-gas even with extreme temperature change. All Negrini cases are backed by a limited lifetime warranty when purchased through International Case Company.
Negrini Tactica CC cases are available in various sizes designed to fit 1, 2, 3, 4 or even 6 handguns, tactical carbines, 1 take down AR, 1 AR Carbine and 2 AR rifles. All sizes have room for magazines, optics and accessories. Additional PixelFoam inserts are available. The MSRP on these distinctive and durable cases ranges from $119 to $369.
---
For further information
Negrini S.r.l.
Via Cortesa 29/a
46026 – Quistello (MN)
Tel.: +39-0376-625008
Fax: +39-0376-619774