Although many ultraportable radiation detectors products were available before Fukushima, including a wristwatch equipped with a gamma radiation detector, it has been the tragedy in Japan that propelled this particular product typology to be somewhat in demand. 
MTM Special Ops, after careful research and engineering, decided to manufacture a limited run of a very specialized tactical watch integrating a fully featured Geiger-Müller tube based radiation counter, which can detect and measure harmful ionizing radiation: the Gray RAD Radiation Detection Watch.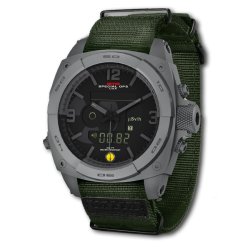 Conceived as a serious precision instrument designed for radiation related professionals and radiologic technologists, the Gray RAD measures single-dose gamma ray levels, as well as cumulative exposure. The detector tracks dose equivalents – from 0.0001 to 9999 millisieverts (mSv), and the dose equivalent rate up to 4000 microsieverts per hour (μSv/h). Users can set their maximum radiation threshold, up to 9999 mSv, and an alarm will sound when this level (user preset) has been reached. Radiation levels are displayed graphically and can be shown in the digital display, which can be switched between dose equivalent rate, accumulated dose, and the time. Additionally, an IR Adapter and software is included to enable data transfer from the Gray RAD to a Windows based PC (Macs are not supported).
In addition to measuring radiation, the Gray RAD is a state of the art timepiece as well. The time is shown via tritium illuminated analog hour, minute and second hands. The digital display is EL backlit.

The case is machined titanium with a gray sandblast finish, is water resistant to 100m and features a sapphire, anti-reflective and scratch resistant crystal (with an unidirectional ratcheting, titanium bezel), a locking, screw down crown and a rugged nylon band that fits wrists up to 9 inches in circumference. The replaceable lithium battery powers the watch and radiation counter for 2 to 3 years. The Gray RAD full-size wristwatch (20mm thickness and 46mm not including crown - 53mm including crown diameter) will be built in only 1000 pieces.