The model 870 pump-action shotgun manufactured and distributed by the Remington Arms Company is definitely the most widely known and spread gun of its kind worldwide between sports shooters and professional operators alike. In the USA alone, the Remington 870 in most, if not all, of its tactical variants represents the main choice for local law enforcement agencies when it comes to squad car guns; basically all federal law enforcement agencies, the U.S. Armed Forces and an uncountable number of SWAT teams also use this shotgun system.
The Erie (Colorado)-based MagPul Industries Corporation, which in the past years has committed itself to revolution the tactical weapons market, still featured no specific product for this kind of firearm, thus forcing Remington 870 users to adapt other MAgPul stocks, such as the UBR, to their shotguns ‒that is, until the 2012 SHOT Show. 
The company has taken advantage (we might even play on the MagPul motto and say "Unfair Advantage") of the great attention that its booth always gathers at the Las Vegas convention center to launch its new furniture line for the Remington 870 shotgun. Reprising the lines of the "Magpul Original Equipment" series of stocks, pistol grips and tactical handguards, whose design predates the development of the MagPul "Masada" (a.k.a. Freedom Group/Bushmaster/ Remington ACR) adaptive combat rifle and that have since turned increasingly popular between AR-15 platform manufacturers and shooters, the new MagPul products line for the Remington shotgun features a replacement forend, dubbed the MOE-870, and a new tactical stock, named the SGA.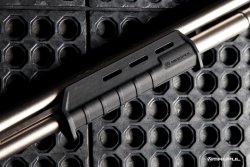 The MOE Forend is a drop-in replacement for the standard Remington 870 (not compatible with the SuperMag versions), featuring extended length and front/rear hand stops for improved weapon manipulation. Compatible with MOE rails, mounts, and accessories, the MOE Forend adds modularity to the proven Remington 870 platform for sporting use, home defense, or on duty. Available in Black, Flat Dark Earth, and Orange to adapt to the mission at hand, the MagPul MOE forend for the Remington 870 is now shipping in the USA at an MSRP of $29.95.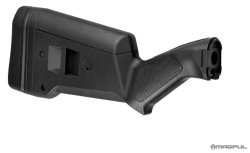 The SGA Stock is a user-configurable buttstock designed to add much-needed adjustability to the tried and true Remington 870. Featuring a spacer system for length of pull adjustment, improved grip ergonomics, recoil-reducing butt-pad, optional cheek risers for use with optics/raised sights, and other accessories, the SGA 870 brings Magpul design and engineering to another classic American firearm. Available in the same colors as the MOE forend, the SGA stock is already on sale in the US at an MSRP of $109.95.