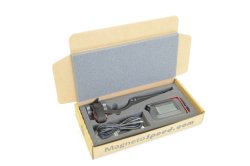 Hunters and sports shooters − especially those who reload their own ammunition − know very well how useful a ballistic cronograph may be: by providing an exact estimate of muzzle velocity for every shot fired, they can help the shooter to calibrate important variants such as bullet weight and propellant quantity in order to always obtain the best possible performances out of his/her gun and ammunition combo, according to personal needs and to the particular context (hunting, long-range shooting, etc.). Unfortunately, up to now, ballistic cronographs have always been somewhat cumbersome to operate, having to be placed in front of the gun itself at a certain distance so that shots fired pass through it in a given point and trajectory. Muzzle-mounted cronographs have also been developed in the past years, yet not all of them have always been satisfactory in performance, quality, and prices. Hence why the products offered by MagnetoSpeed LLC., a Texas-based company, may truly be called revolutionary under such points of view.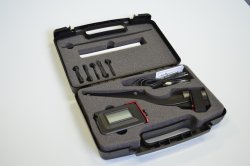 The company offers a line of ballistic cronographs, simply dubbed the "MagnetoSpeed", based upon a patent-pending magnetic detection system. Two models are available: the baseline V1 and the improved V2, featuring spacers to allow installation on multiple platforms and improved construction to better withstand the use with extremely high calibers. The MagnetoSpeed cronographs have been conceived to be quick, easy and safe to employ on all, or almost all, rifles and carbines, shotguns, and even long-barrel revolvers. Only a very small number of semi-automatic pistols can fit the MagnetoSpeed cronograph, though, namely those with a barrel that largely protrudes the slide, as it absolutely must not hinder the work of the cronograph with its movement.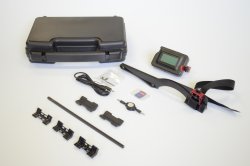 Installation and use of the MagnetoSpeed cronograph is quite simple. Its main assembly, dubbed the "Bayo" as it is similar in shape and installation manner to a bayonet, must be secured under the barrel of the intended firearm through the provided strap, so that its deck is down-range from the muzzle and the bullet path; the "Bayo" is designed to fit tapered and bull barrel muzzles between 0.50 and 1.00 inches in diameter, and comes with an alignment rod that can be fit in the gun muzzle to help the user to install it properly. Once the "Bayo" is secured, it can be connected to the display unit through the provided data cable, via a 3.5mm jack. The display unit is battery-powered and manages the entire system. The "Bayo" unit has a rear convex blast area which will quickly dissipate the muzzle blast so that it won't influence the two sensors placed on the deck.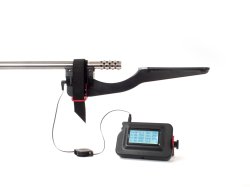 These two sensors, above which the bullet will travel, are magnetic, and not optical, in nature, so that they won't be influenced by environmental light, no matter if it's natural or artificial. Data will be collected and returned to the shooter by the display unit, which will list the bullet velocity in feet-per-second or meters-per-second, shot series and strings, shot numbers, and will also display statistics such as maximum and minimum velocity in each string, average, standard deviation and extreme spread. All data is collected on an SD card, so that it can later be transfered on any personal computer, stored, handled and printed through any Excel-type program that can manage datasheet and spreadsheet.
Tests so far always shown the MagnetoSpeed ballistic cronograph to be an exceptional product; the MagnetoSpeed V1 and V2 ballistic magnetic cronographs are now available worldwide through authorized MagnetoSpeed dealers and distributors: four in western Europe, one in eastern Europe, four in the United States of America, one in South Africa and one in Australia.