Leupold introduces the VX-6 Multigun 1-6x24mm riflescope featuring the illuminated FireDot™ Special Purpose Reticle (SPR®), and now available through the Leupold Custom Shop.
With its powerful 6:1 zoom ratio, the VX-6 Multigun delivers the speed of a zero-magnification red dot at its lowest power setting. At its highest power setting, the scope pulls distant targets in tighter for more precise shot placement. Unlike many higher power scopes that deliver their best sight picture only at each end of the zoom ratio, VX-6 is engineered to deliver exceptional image quality from edge-to-edge of the visual field at any magnification. With an MSRP of $949.99, the VX-6 Multigun outperforms many higher priced optics.

"The VX-6 Multigun is the result of input from consumers who wanted more in a 3-Gun optic", said Pat Mundy, senior marketing manager for Leupold & Stevens, Inc. "Our production managers and Custom Shop have worked closely to deliver a product that answered these requests".
The FireDot SPR is designed for instinctive, close-range/low-magnification situations, yet allows shooters to engage longer-range targets with greater precision than generally possible with other reticles.
The illuminated center aiming point attracts the eye naturally and makes target acquisition quick, precise and simple. It has a one-button, low-profile design that offers a choice of 12 different reticle brightness settings. Proprietary Motion Sensor Technology (MST™) automatically deactivates illumination after five minutes of inactivity, but reactivates immediately when any movement is detected.
This video has been hidden because of an external service (YouTube) that could potentially collect personal data.Allow video services for the duration of the visitAllow video servicesStop allowing video services
Another key feature is the Quantum Optical System™ which includes lead-free, precision-ground and edge blackened lenses with Leupold's Xtended Twilight lens coatings for the highest level of light transmission and clarity. Carefully positioned in optimum relationship to each other, the lenses deliver up to 98 percent total light transmission. Exterior lens surfaces are coated with DiamondCoat 2™ for unsurpassed resistance to scratching and abrasion.
VX-6 has pop-up, re-zeroable finger click 0.1 milradian adjustments for windage and elevation that can be converted to Leupold's Custom Dial System® (CDS). With CDS, competitors can get on target at any range, with any load, by matching their scopes to the ballistics of their ammunition and sight-in conditions. Each scope comes with one free CDS dial.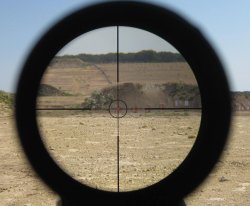 In addition, VX-6 has a generous eyebox and long eye relief, making it quick and easy for competitors to get their eye behind the riflescope and attain a full, clear sight picture. Compared to competitive riflescopes, the VX-6's eyebox is up to 137 percent larger at the high power ranges, and up to 67 percent larger at the low power ranges. This provides exceptional flexibility when setting up for longer shots at high power, as well as the quick target acquisition required for stages where speed is at a premium.
Other key features of the VX-6 Multigun riflescope include:
Leupold's most durable Twin Bias Spring Erector System™, providing the utmost in mechanical reliability. It is built with up to 30 percent more holding force than competitive riflescopes to withstand the most intense recoil and abuse.
Extreme fast-focus eyepiece allows smooth, fast and precise focus adjustment for users of different visual acuity, from nearsighted to farsighted.
Second generation Argon/Krypton waterproofing and fog proofing. Enhanced thermal shock resistance.
All VX-6 riflescopes sport a rugged 30mm matte black main tube. Sporting Leupold's familiar Golden Ring®, VX-6 is backed by the company's Full Lifetime Guarantee.