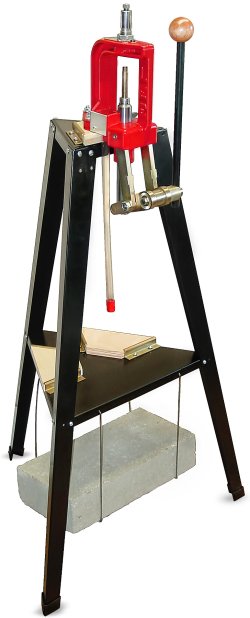 Lee Precision, Inc., based in Hartford (WI) is a family-run business that gained fame during the years as the provider of some of the best ammo reloading instruments in the world. Never resting on its own laurels, Lee is constantly striving for new peaks in perfection, and in 2012 the company launched two new products guaranteed to make every enthusiast reloader happy.

Lee's Classic Cast press features the largest opening in the industry and the longest stroke -- yet the handle remains adjustable to provide the least travel of any press. Rigid cast iron construction in a classic "O" design ensures maximum strength. Its baked powder coating is durable and makes the Classic Cast a handsome addition to any reloading bench. Adjustable handle is movable side to side for left or right hand operation. Start and stop position is adjustable with a 48-tooth ratchet type handle clamp. In addition, the handle length is completely adjustable. Shorten it when loading handgun and short rifle cases. Automatic primer arm with bottom of stroke priming for best feel. Includes two primer arms for large and small primers. No more fumbling with tiny guides and springs. Largest 1 1/8 diameter hollow ram to catch every primer with hose fitting to allow primer disposal directly to a trash can. Supported by over 12 square inches of ram bearing surface. Threaded die adapter accepts standard 7/8-14 dies, remove and the press accepts 1 1/4-12 large series dies. Powerful compound linkage with positive travel stop prevents pres toggle "cam over". Accepts standard shell holders, ram insert can be rotated to allow primer installation on right or left side.
Perfect to be used in conjuction with the Classic Cast press is the sturdy powder coated steel Reloading Stand, perfect to place any press at the perfect counter stool or standing height. Its three-leg design assures absolute stability regardless of the floor condition. Rubber tipped legs suitable for any surface even carpeting. The thick steel top is fitted with the patented, quick change Lee Bench Plate System with pre-drilled steel base block to fit all Lee metallic presses. There's more, the stand includes a sturdy steel shelf with two bench plate receivers that will neatly and securely store your extra presses or mountable accessories. Included with the stand is one storage bin for component or tool storage, which clips on to the steel bin bracket provided with the stand. Each leg has eight mounting holes that allow you to accessorize your stand with a multitude of bins, shelves or accessory racks. Includes drawing to customize and make your own extended work surface.
---
For further information
Lee Precision, Inc.

4275 County Road U 
Hartford, WI

53027 U.S.A.

Tel.: +1-(262)673-3075

Fax: +1-(262)673-9273