This video has been hidden because of an external service (YouTube) that could potentially collect personal data.Allow video services for the duration of the visitAllow video servicesStop allowing video services
Global leader in the market of general utility and firearms maintenance tools, the Leatherman Group knows how important it is to maintain a sporting or hunting rifle, pistol, shotgun, or even bow before and after every use session; but that's just as important as being able to solve problems or address issues during the sessions themselves; that's the reason why the company is planning to launch a trio of compact, lightweight multitools aimed to meet the needs of hunters and sports shooters worldwide, encompassing a plethora of solutions in a single, pocket sized item.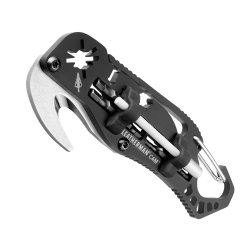 Leatherman Tool Group, Inc.
First of the three is the Leatherman Cam, conceived as an all-round tool to address general field issues on firearms but specialized on high-precision bows used by hunters and in target competitions.

The Cam is a multi-purpose, single-piece pocket tool crafted from heat-treated 420 stainless steel with black oxide finish stainless steel. Eight bit options and a broadhead wrench and sharpener means you'll have everything you need in one lightweight package. Clip it on and head out—you'll never be slowed down by not having the right tool again.
Leatherman's Cam tool is 4.8 inches long and 2.6 oz. heavy, and includes the following items: a broadhead wrench, a 440C gut hook, a bit driver with four included bits (1/16-.050 bit, 1/8-7/64 bit, 5/32- 9/64 bit, and 3/16-7/32 bit), a ceramic broadhed sharpening stick, and a carabiner. MSRP is planned to reach around 45.00 US$, although some Internet-based distributors offer a pre-order special offer option at 33.95 US$ as of today.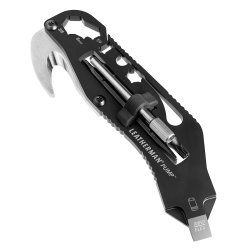 Leatherman Tool Group, Inc.
Second is the Leatherman Pump, a shotgun-specific, multi-purpose pocket tool that can take care of any need at the gun club, skeet shooting, or hunting. Made of 100% heat-treated 420 stainless steel with black oxide, this lightweight, everyday carry tool will keep you running with four bit options, a scope adjustment tool, and a selection of wrenches for your rail; it will also allow you to customize your choke with the choke tube wrench and to clean up easily with the replaceable firearm disassembly punch.
Leatherman's "Pump" tool is 4.8 inches long overall and only 2.9 oz. heavy, offerin the following tools: a universal choke tube wrench, suitable for all shotgun calibers from 10-gauge down to .410-gauge; a bit driver with a ¼ bit and a Phillips #2 bit included; a 1/8-inch tool punch; an accessory wrench with 1/4 inch, 8mm and 3/8 inch sizes; and a windage/elevation tool. MSRP is slated to about 40.00 US$, although, just as stated above, some pre-order special offers are already in place for as low as 29.95 US$ on the Internet.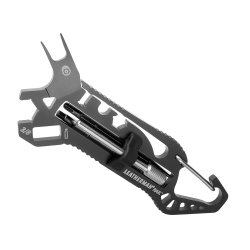 Leatherman Tool Group, Inc.
Last, but not least, is the Leatherman Rail − another 100% heat-treated 420, black oxide finish stainless steel pocket tool, this time specifically designed for AR-15 style rifles and carbine as well as for many other MSR (Modern Sporting Rifle) models. The Leatherman Rail will allow its users to make adjustments on-the-fly with drivers for Leatherman bits, standard hex bits, and the included disassembly punch, all held in place with a grip-tight pressure bar. A two-prong sight adjustment tool ensures you're always on target, and a carabiner secures the Rail to you or your pack, keeping it within reach at all times.

Leatherman's Rail tool is 4.8 inches long, 2.3 oz. heavy, and includes a front sight adjustment tool, a 3/8-inches tactical rail wrench, a bit driver with four bits included (Phillips #2. ¼-inch screwdriver, 7/16-inch Allen wrench, Torx #15), a 1/8-inch tool punch, an oxygen bottle wrench, and a carabiner. MSRP will top up 45.00 US$, with current Internet pre-order special offers being as low as 33.95 US$.