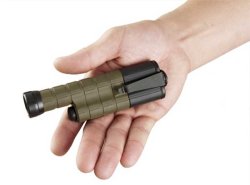 Kel-Tec CNC Industries, Inc.
Kel-Tec's second entry in the field of tactical flashlights is a small and highly ergonomic tool sporting a powerful 420 Lumen output. Designed co be used in conjunction with a firearm or as a hand-held device, the Kel-Tec CL-43 is extremely bright, features a belt clip and a lanyard ring, and will resist to a 1 mt drop and to a 1mt. depth water immersion.
CNC-machined from extruded 6061 aluminum and featuring a textured rubber outer protective layer in either black, Tan, OD green, yellow or bright orange colour, the CL-43 is operated through a rearward-click button located midpoint of the flashlight with both constant and momentary-on capabilities.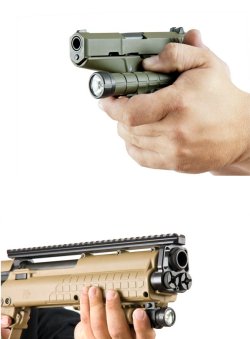 Kel-Tec CNC Industries, Inc.
The Kel-Tec CL-43 flashlight is powered through CR123 lithium batteries and is 3.8oz heavy in a .94x1.5x4" package. Its Cree XP-G LED grants a 160 mt range. The switch is operated like the trigger on a gun, pointing the light as an extension of the user's arm; compared to a light mounted to a pistol, the CL-43 has much superior range, and also gives the user the ability to hold the light off the line of sight to conceal his/her position. The small size of the CL-43 makes it possible to hold and operate parallel with a handgun without impairing a conventional two-handed hold, and if required, with some training, it light can be operated one-handed together with the gun. With the addition of a separate attachment, the CL-43 can also be mounted to a MIL-STD-1913 Picatinny rail.
With a separate adaptor, the Kel-Tec CL-43 will be able to use standard AA batteries at an increase in length of the system. Already available at the Kel-Tec webstore at an MSRP of $140.00, the CL-43 flashlight will hit stores in early 2013.