Article also available in other languages
Whoever owns a handgun for household, workplace or property protection (eg. to be kept in a car for defense against carjackers) knows very well that easy and fast access must go along with protection of the gun itself, so that it couldn't be snatched away or otherwise accessed by unauthorized persons − particularly children.
Over the years, the industry addressed these needs by launching on the market a plethora of solutions to address the problem... some more innovative and successful than others.
Among the latest, definitely the most interesting and high-technology proposals comes from the Security Products branch of Hornady Manufacturing, the world-famous ammunition and reloading products maker headquartered in Grand Island (Nebraska, USA).
That's it: Hornady just announced the imminent market launch of a new ready-to-access gun safe dubbed the RAPiD Safe, that stands out among all similar products already available on the market due to a plethora of extremely interesting, unique technological features.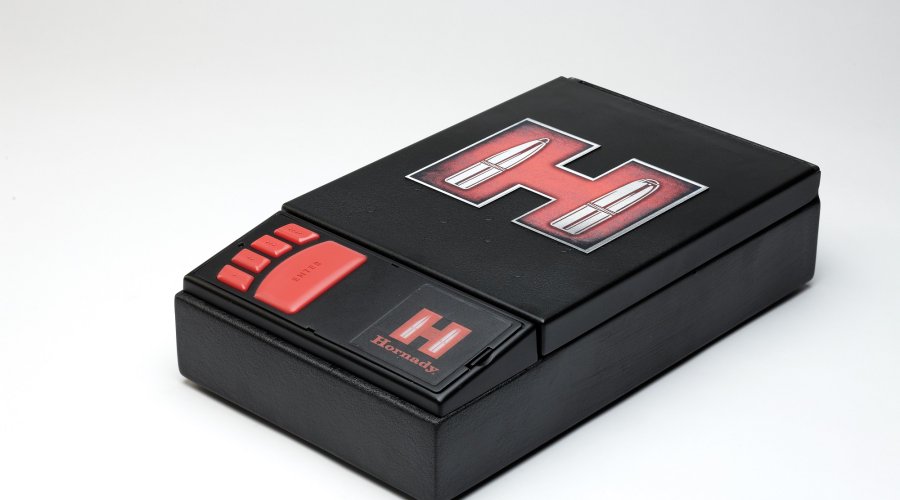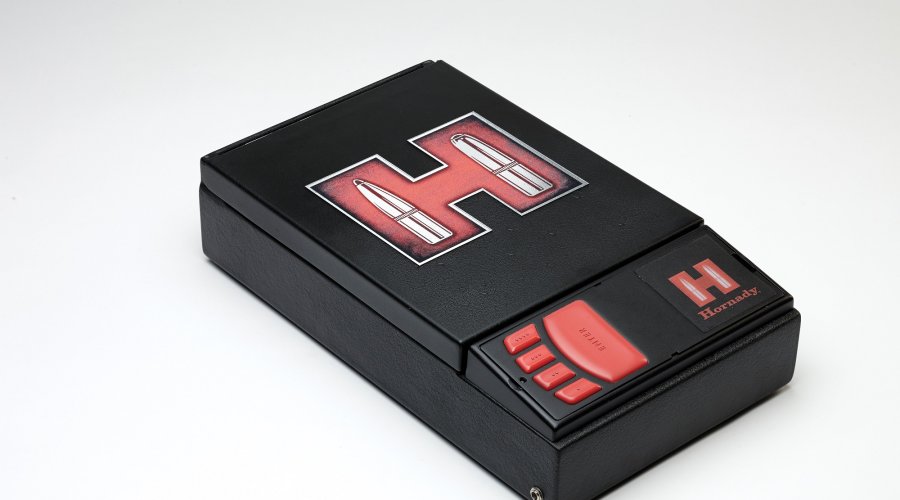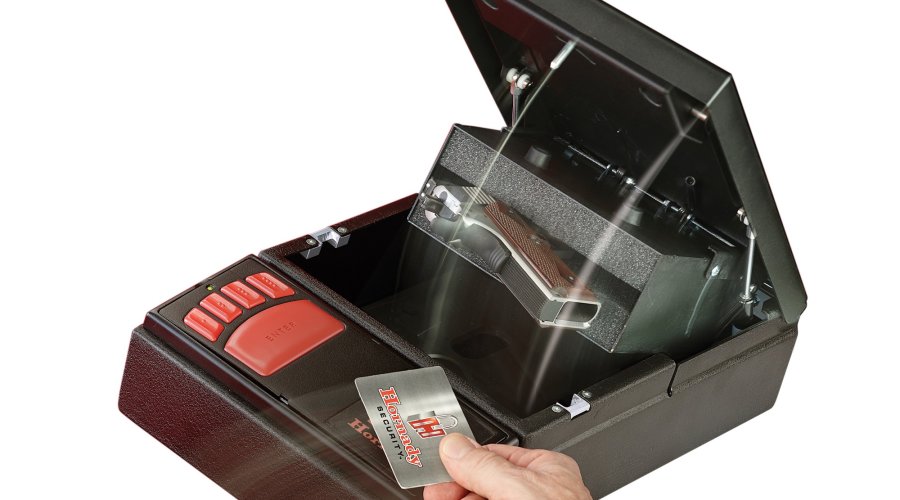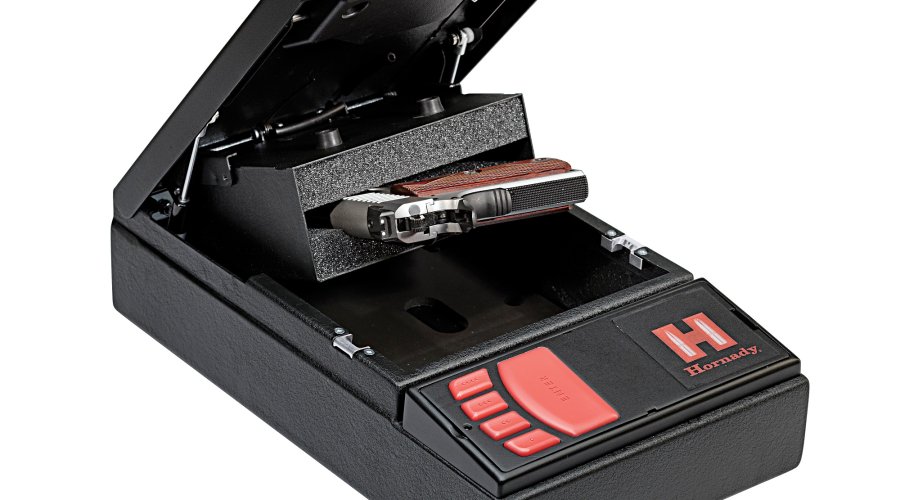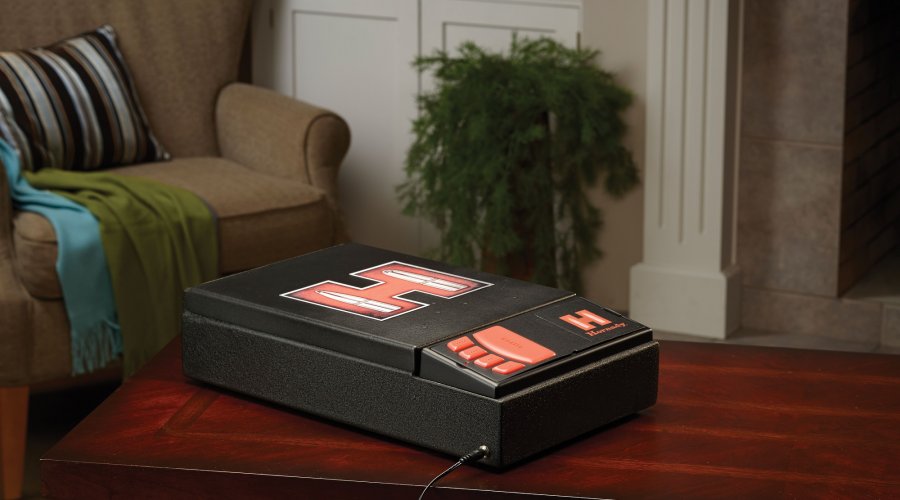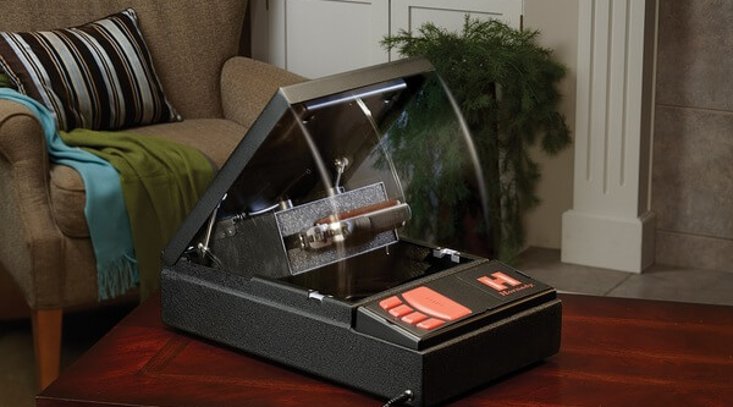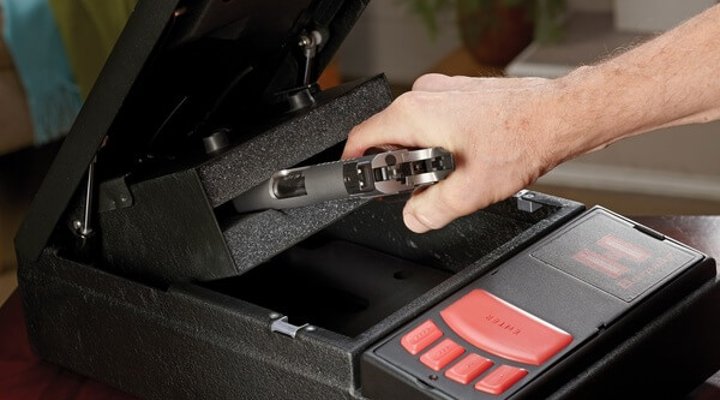 What makes the RAPiD Safe so different and more advanced in comparaison with the similar products offered by other manufacturers is the RFID unlocking technology, using a radio-frequency identification chip to positively identify the owner and allow access to the gun.
Hornady's RAPiD Safe is built out of wrapped 16-gauge steel, and is 15.5 inches long, 9 inches wide and 3.5 inches high, with an overall weight exceeding 15 pounds. Its locking system features heavy-duty ¼" steel dual-lugs, which make it basically impossible to pry open with improvised tools.
Furthermore, the Hornady RAPiD Safe comes equipped with a security cable that's rated to resist traction up until 1.500lbs., so that it may be secured to an immobile object to prevent theft, removal, or unwanted movement (eg. if it's used on borad of a vehicle).
All these features not only make the Hornady RAPiD Safe an excellent theft-proof solution for the storage of self-defense pistols, but also allow total protection against unauthorized access by minors: the RAPiD Safe meets and exceeds all ASTM International performance standards for youth resistant firearms containers.
The electronics on the Hornady RAPiD Safe are powered through both a 110V/220V AC/DC power outlet adapter and a battery pack that will fit standard, commercial AA batteries and may be used as either a backup power source or as the main supply (the RAPiD Safe requires very little power to operate). The RAPiD Safe will not automatically open when out of power, so it's not possible to override its lock by taking out all power sources.
The Hornady RAPiD Safe offers multiple access options: it is issued with a standard key that will operate its lock manually and is intended as an emergency measure, and features a programmable 5-digit keypad; however, its main core consists in an RFID Chip reader.
Each Hornady RAPiD Safe comes equipped with three opening tools: a keycard, a keyfob, and a Neoprene bracelet − each containing an RFID Chip. Just passing any of them over the embedded RFID Chip reader will cause the Hornady RAPiD Safe to spring open.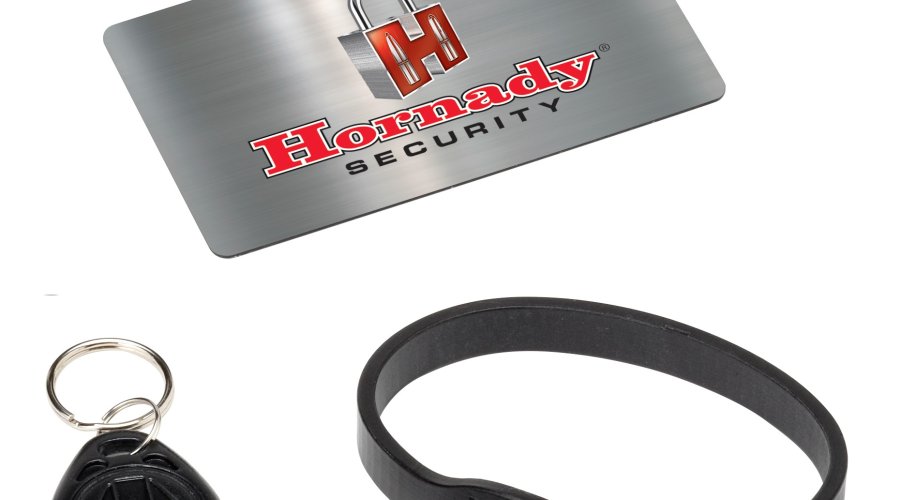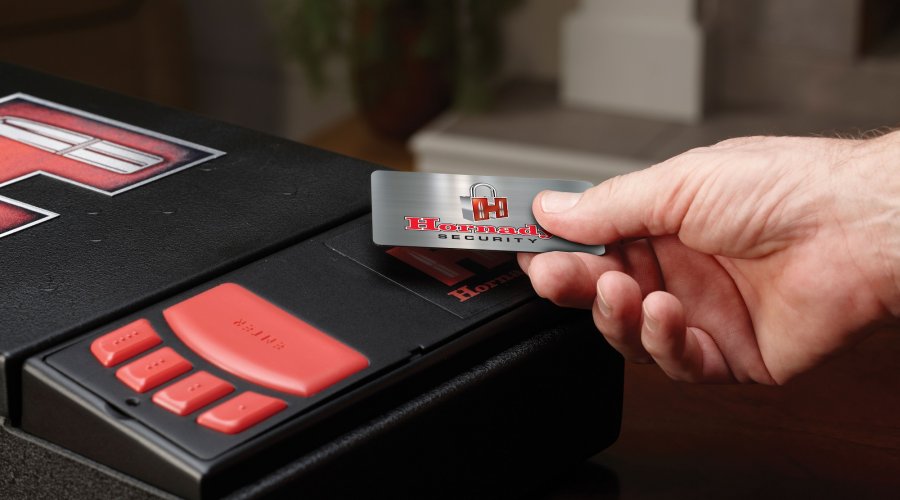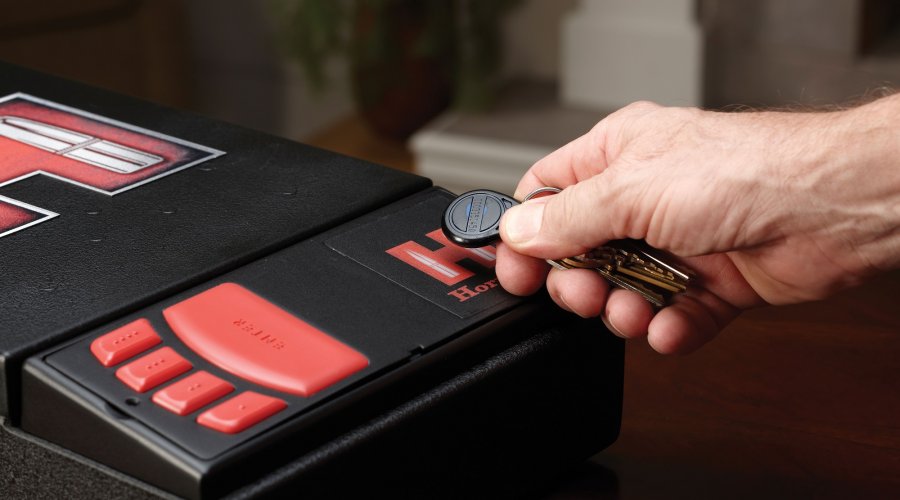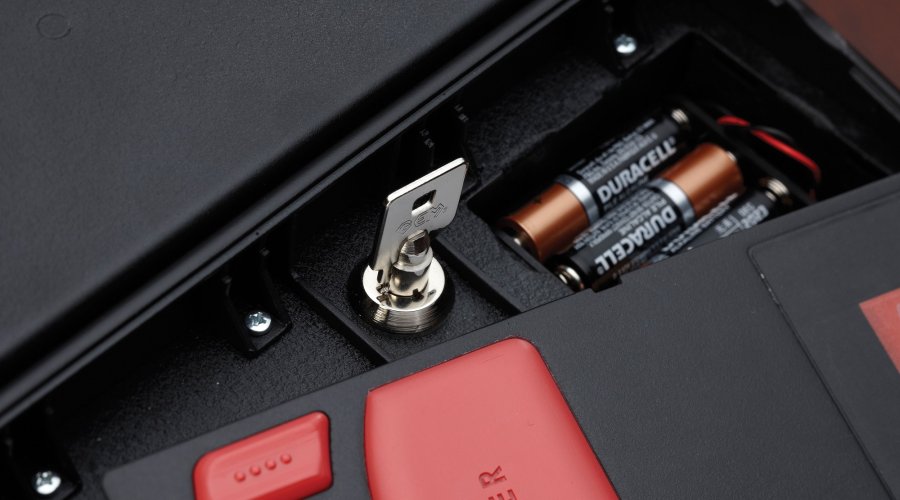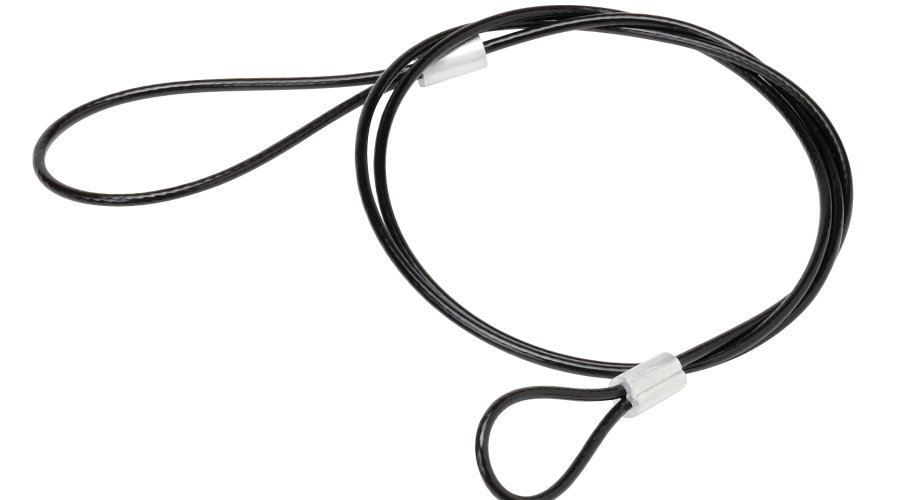 We at ALL4SHOOTERS.COM particularly fancy the Neoprene bracelet option, as it offers the possibility to access the safe undetected, which can be precious, so to say, for a shop owner who must get ahold of his/her gun while being already threatened by a robber.
Upon opening, the Hornady RAPiD Safe will present a 11"x8"x3" compartment coming equipped with a padded sleeve where a handgun can be inserted at the perfect angle, so that it will find itself in the right position for swift extraction and target engagement.
The padded foam sleeve in the RAPiD Safe is removable, enabling storage of most popular revolvers and semi-automatic pistols conceived for personal and property protection, with barrels as long as 6 inches.
Furthermore, it's wide enough to allow the storage of a spare magazine along with the handgun itself, providing additional confidence to the homeowner or shopkeeper who may find himself/herself forced to fend back a particularly violent intruder or aggressor.

This video has been hidden because of an external service (YouTube) that could potentially collect personal data.Allow video services for the duration of the visitAllow video servicesStop allowing video services
The Hornady RAPiD Safe is part of the announced new products line for the 2014, and the distribution is slated to start early in January, with the US market coming first; the first samples are most likely to be showcased at the 2014 SHOT Show in Las Vegas, coming January 14th to 17th.

The manufacturer's suggested retail price has been announced at US$276.67 for the United States, but there's no word yet concerning export availability and pricing outside of the American market.
Perspective non-US buyers should thus wait a couple more months before contacting their national authorized Hornady importers and distributors to inquire about local availability and pricing.