Coltellerie Fox - Oreste Frati S.r.l.
Headquartered in the town of Maniago − located in the northern Italian province of Pordenone − the FOX Cutlery company is commonly acknowledge as one of Italy's best industrial knifemakers, offering a quality level that nears the one of the best hand-made cutlery products for most, if not all, of its large-scale product line, and at an affordable price. FOX Cutlery also operates a north-American subsidiary, and in the past years established a solid and successful presence on the American market. With expert knifemakers mastering the entire design, manufacturing and distribution procedure, FOX Knives offers high quality cutlery using only high-grade stainless steels and other quality components such as G-10 or FRN.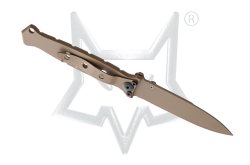 Coltellerie Fox - Oreste Frati S.r.l.
On top of that, FOX Cutlery also offers a broad line of high-quality, well designed fixed blade, folding blade and bayonet-type knives for military, Police, rescue and tactical-combat applications. With the roots of the FOX Cutlery company tracing back to 1977, the specialized professional products division − dubbed the FKMD or Fox Knives Military Division − has been issuing combat knives, tactical knives and bayonets to the Italian Armed Forces ever since the 1992 "Restore Hope" U.N.-backed armed intervention in Somalia. Nowadays, FOX tactical knives are commonly used by Special Forces in Italy and other parts of Europe, and the "Spartan" bayonet/knife design has been adopted as standard by many Armed Forces all around Europe and the entire world. FKMD also manufactures some of the best "dual use" (civilian/professional) fixed and folding blade designs available on the market today.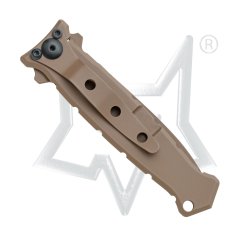 Coltellerie Fox - Oreste Frati S.r.l.
The latest pocket knife from FOX Cutlery, part of the FKMD product line, is a truly clever, all-purpose small-size knife conceived for low-profile 24/7 utility and defensive carry. Dubbed the Hector, the new pocket folding knife from FOX Cutlery was first spotted at the 2013 SHOT Show in Las Vegas, last January, and at the 2013 IWA expo in Nuremberg (Germany), while commercial launch was announced at the 2013 edition of the EXA expo, in the Italian city of Brescia. Finally made available in the final days of June, the "Hector" is a very practical design, with a cosmetic design that strongly resembles a dagger while still retaining all the best features of FOX' folding knives. Profile is kept low by using a single 420J2B Stainless Steel scale, with an ergonomic gripping design, a belt clip and a lanyard loop for convenient carry. Featuring a simple liner lock design, the FOX "Hector" pocket knife features a single edge, N690Co HRC 58-60 blade that's 3.3 inches long and 3mm thick. The FOX "Hector" knife is 7.9 inches long overall when open, and barely 6 to 7mm wide when folded.


Coltellerie Fox - Oreste Frati S.r.l.
The FOX "Hector" folding pocket knife is available in two variants: the FX-504 SW that sports a totally stainless finish; and the FX-504, sporting a desert tan finish that's obtained through a FOX proprietary, patented treatment dubbed the Idroglider, which protects the entire surface of the knife against water, humidity, and oxidation. Retail price in Europe for the FOX "Hector" folding knife reaches an average of a little less than 60€, depending from Country, distributor, and retailer. Customers from Countries outside Europe and north America should contact FOX Knives to inquire about availability of FOX products in their Country and to obtain informations and details concerning local authorized FOX distributors.