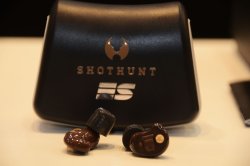 The shooters all around the world know how important it is to protect your hearing shots fired.
The Euro Sonit, a leading Italian company in the production and import of earphones, is launching the new earphones electronic protective Shothunt, addressed to all lovers of hunting and shooting.
The Shothunt protective earphones are not simple, since simultaneously perform 2 functions: automatic attenuate harmful sounds that exceed 82dB (prolonged gunfire and noise) and reproduce natural sounds high-fidelity and amplifies them up to 20dB without altering the natural listening.
The earphones electronic Shothunt the Euro Sonit have a standard fit for most of the ear, the Half Shell contoured ergonomic shape offers excellent inside your ear, your comfort is assured thanks to the memory foam pads that allow a perfect fit and grip in all ear canals.
The electronics consists of a 100% digital processor with multi-channel technology that eliminates annoying sounds only and does not affect even the most acute, and the directionality of the sound remains unchanged for a listen at 360°.
Completely waterproof earphones Shothunt the Euro Sonit have all the components inside water-repellent thanks to nano-technology P2i Aridion that ensures absolute protection against water, moisture, perspiration and corrosion.