Article also available in other languages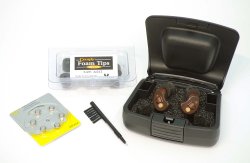 Every shooter who's worth this name knows the inherent dangers of the shooting sports and practices to the human hearing, and how important it is to provide an adequate protection against perspective severe, even permanent danger that may come from the high noise levels we expose ourselves to.

Euro Sonit is an Italian-based company that with years of experience in the manufacture of high-technology hearing aid devices; thanks to the cutting-edge expertise and technology the Company has acquired during the years, the Euro Sonit R&D&I department has been able to engineer a totally new generation of hearing protection products aimed to hunters, sports shooters, military operators and law enforcement professionals: the SHOTHUNT active electronic protective earplugs.
This video has been hidden because of an external service (YouTube) that could potentially collect personal data.Allow video services for the duration of the visitAllow video servicesStop allowing video services
That's true: with the price they go for (around 600.00€ in Europe) they are not exactly cheap; and yet the SHOTHUNT earplugs are all but a simple pair of protective earplugs: as a matter of fact, they encompass the highest level of technology ever seen on a hearing protection system for shooters.
When activated, the Euro Sonit SHOTHUNT earplugs provide two different functions at the same time: the protective function will automatically and drastically suppress all noises and sounds above an 85dB safety threshold − either sharp and brief, like a gunshot, or very long, like the noise of working heavy machineries; on the other hand, the corrective function will enhance all noises and sounds under the safety threshold, providing a +20dB level without altering natural hearing.

Said function has been implemented as many older shooters nowadays − mostly hunters, due to their normal disregard of hearing protection − suffer of some level of hearing loss, caused by a combination of age and years of exposure to high noise levels. The Euro Sonit SHOTHUNT earplugs will compensate for the lost hearing while they're worn.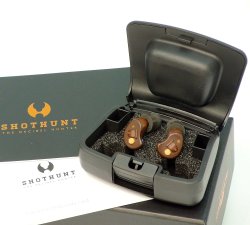 Euro Sonit's SHOTHUNT earplugs will easily adapt to the shape of the user's auricle, thanks to their ergonomically-shaped Half-Shell design that also grants an excellent retentionl level. The interchangeable memory-foam tips will also adapt to the user's ear canals and ensure comfort and efficience.
The electronic "heart" of the Euro Sonit SHOTHUNT earplugs consists in a 100% digital, multi-canal technology processor that will eliminate all dangerous noises only, leaving all others intact; sound directionality remains intact, allowing the user to retain a full 360° environmental awareness.
The Euro Sonit SHOTHUNT earplugs are totally waterproof, both on the outside and inside: the P2i Aridion nanotechnology provides total protection for the electronic components against water, moisture, sweat and other corrosive elements.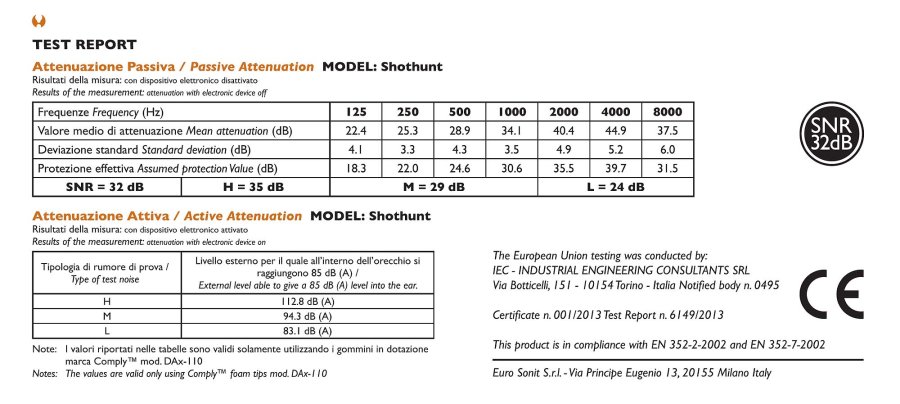 Are they expensive... well, very expensive? You bet! How do they compare to other similar products on the global market? They don't... there's nothing out there that compares to the SHOTHUNT technology and performance, not even some of the world's most advanced military-specs integrated communication earmuff sets.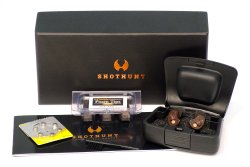 Euro Sonit's SHOTHUNT earplugs are perfectly suited for all shooting-related purposes − hunting, all shooting sports and other civilian shooting disciplines, and military and Police tactical/professional/operational deployments − and will show all their excellent potential particularly in some fields, like IPSC or professional training, where the shooter must remain focused while at the same time always be aware to the orders given by the trainers or the Range Masters, and follow them.
Commercial success has not been stellar so far, but that can be understood: a true revolution in their field, the Euro Sonit SHOTHUNT earplugs have so far been met with some degree of mistrust, as most shooters saw them as "overpriced earplugs", not knowing the high level of technological innovation and performance that they offer.

But try and ask somebody who suffered a permanent hearing damage due to distraction, incident, or negligence: what would he/she pay to be able to go back? Or, to avoid being unable to go back?