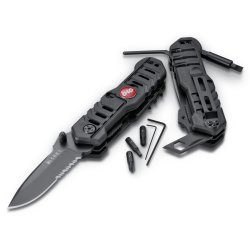 Both companies are headquartered in the State of Oregon: CTC - Crimson Trace Corporation operates out of Wilsonville, while CRKT - Columbia River Knife & Tool, Inc., is based close nearby, in the town of Tualatin. And, as a matter of fact, both are famous worldwide, they're market leaders in their sectors, and their products are used by sportsmen, civilians, private security personnel, law enforcement officers and military operators all around the globe: CRKT manufactures some of the best blades and multi-purpose tools available on the market, while CTC offers red-light and green-light, visibile or IR lasers for all firearm platforms, ranging from the smallest pocket pistols up to shoulderable rocket launchers. Now, well aware of the common needs of their respective buyers, CTC and CRKT team up to offer a product that's bound to become one of the greatest sellers that both of the Companies ever came out with, being definitely an all-round, all-out useful instrument.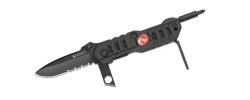 Dubbed the "Picatinny Tool", the new brainchild of the CTC/CRKT collaboration is a pocket, lightweight multitool suitable to fit the needs of sportsmen, hunters, recreational shooters and professionals, who may need to resort to a fast field maintenance for their gun or for any accessory thereof, optics included. Barely 6.75 inches long when open, it shrinks to mere four inches when closed, and is only 4.7 ounces heavy: perfect for all-day-round carry. The Picatinny Tool comes with a single-position metal belt clip, polypropylene handles on the ergonomically-shaped grip and a 2CR13 locking liner for the drop-point, combo-edge blade, that's 2.75 inches long and 0.113 inches thick, built out of 8Cr14MoV (HRC 58-59) stainless steel and features a hollow grind and a black oxide finish, a combined razor-sharp and triple-point serrated edge.


Fold out tools include a hex wrench driver which can be used as an on-axis screwdriver, or as an angle driver. Hex bits include small flat, Phillips, Torx 20 and Hex 3/32. A fold-out blade incorporates a scraper edge and an 8 mm wrench. The fold-out pin with rounded end can be used to clear failure-to-eject jams, and also to remove slide release pins. The two CTC Allen tools are held in molded grooves in the glass filled nylon scales, which have an aggressive grip pattern. The CTC/CRKT Picatinny Tool is already available on the global market. Those of you who don't have a Crimson Trace or CRKT distributor handy may easily place an order on the Internet sites of either company, or through other sellers on the Web. The price per unit rarely goes over 50.00US$ (shipment not included), and stocks are readily available.