Article also available in other languages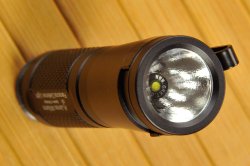 As being able to see clearly in the dark can often be crucial when facing a potential threatening situation, a number of tactical accessories manufacturers did start their own lines of tactical or utility flashlights in the past years.
Two of the latest new entries in this field come from CRKT - Columbia River Knife and Tool, and have been conceived by the master partial artist James Williams, who already teamed up with CRKT in the past years to launch other defense-oriented tools such as knives, tactical pens, and many others.

Mr. Williams applied some quite clever tactical and defensive concepts in the creation of this pair of flashlights that can be either used for tactical or everyday utility purposes, although still retaining prompt and quick deployment capabilities in the event of an emergency.
As incandescent bulbs flashlights − which only provided a maximum intensity output − were slowly abandoned by the industry and the users, a new breed of multi-task LED-based flashlights was born, employing embedded circuitry to allow a variable intensity output. However, the first multi-task LED-based flashlights were somewhat complicated to operate: several pressures on the on/off push-button were required to activate the different output modes, all against the first and most important of all tactical thought principles: keep it simple.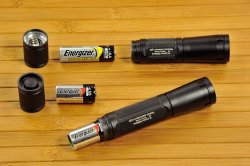 The extremely high output levels provided by the most recent Light-Emitting Diodes do however require a mitigation function to make these flashlights really multi-purpose. And one of the most common solutions conceived by the industry to allow a tactical flashlight to increase or decrease its output to satisfy everyday working, outdoors or utility purposes is the provision for a second switch integrated in the torch bezel and activated by pushing or twisting the front end cap itself.
That's exactly what James Williams decided that the CRKT flashlights bearing his name should feature.

The main difference between the two variants stays in the maximum output level and in the power supply system. The CRKT Williams "Personal Defense" flashlight sports a 100-Lumen maximum output, and is powered through a simple, commercial-type AA battery, working either with disposable or rechargeable models. It's 4.26-inches long and barely 2.9 ounces heavy; the tube body is machined out of aircraft-grade aluminium and features a checkered central area to allow a firm grip in all conditions.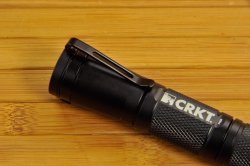 The CRKT Williams "Personal Defense" flashlight also features a reversible and removable belt clip, and an on/off checkered rubberized push-button at the end cap.
As stated above, its output level can be set by operating the on/off button and the rotating bezel to choose between the different modes.
The High Mode is activated by pulling the bezel forward, and will offer a 100-Lumen output for a continuous runtime of approximately 50 minutes; when the bezel is pulled forward to engage the High Mode, two quick clicks on the end cap button is all it takes to activate a strobe mode for signals.
The Low Mode is activated by pushing the bezel all the way rearward, and when it is engaged, a push sequence on the end tail button will activate a plethiora of output alternatives. A single push will enable a very low 3-Lumen output that will offer 65 hours of continuous runtime and is perfect for navigation and map reading; further pushes will activate a 10-Lumen mode (with a 9-hours continuous runtime), a 50-Lumen mode for 90 minutes of continuous runtime, and a 50-Lumen S.O.S. signal mode that offers a 5-hours runtime. Keeping the end cap button pushed when one of the output modes is engaged will pre-set the torch for the selected function, although the circuitry setting will reset to zero when the flashlight is switched off for two seconds or more.
The second model, dubbed the CRKT Williams "Tactical Applications" flashlight, definitely offers a very, very high maximum output level, topping 320 Lumens.
The CRKT Williams "Tactical Applications" mode is 4.84-inches long and weighs 3.1 ounces; it is powered by two CR123A batteries, and the output levels and working mode are selected just as in the smaller "Personal Defense" model. Pulling the bezel all the way forward activated the High Mode, offering 150 minutes of continuous runtime at 320-Lumen or a strobe mode with two fast clicks on the end cap button. With the Low Mode engaged by pushing the bezel all the way rearwards, sequential pushes of the end cap button will activate a low-output navigation mode (3 Lumen, 286 hrs. continuous runtime), a 40-hours 10-Lumen mode, a 75-Lumen continuous illumination mode that will last for 8,5 hours, and a 75-Lumen S.O.S. signal mode offering 26 hours of continuous runtime.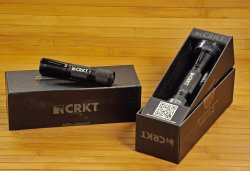 The incandescent bulb flashlights and the early LED flashlights − whose output levels were significantly inferior − could not possibly feature all these functions. Just keep in mind, when handling the CRKT Williams "Tactical Applications" model, that its maximum 320-Lumen output is high enough to cause serious and potentially permanent retinal damage if pointed directed at someone's eyes, so if you really have to do it, let that someone be a hostile attacker, and let it be a matter of life or death.  
These new flashlights integrate the excellent tactical and utility accessories line offered by the CRKT. Built to last and to cover multiple tasks, they will satisfy most, if not all, of your low-light visibility needs.

Remember: always be aware of your surroundings, of your target, and of what's around and behind it. And if you're illuminating it with a flashlight, let it be a CRKT.