Headquartered in Tualatin (Oregon), the CRKT - Columbia River Knife & Tool company is one of America's top makers when it comes to hunting knives, pocket knives, sport & work knives, multi-tools, and tactical knives. The company built its reputation on creating innovative, top quality knives, priced very competitively, and this year, working with the world's leading knife designers, the company ofders a number of new and exciting designs for your life. Specifically, CRKT's mid-year 2013 offerings include six great new models for everyday pocket carry.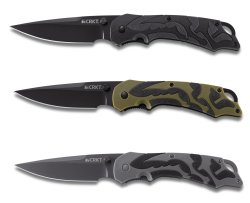 CRKT - Columbia River Knife & Tool
First of all is the Moxie, designed by knifemaker Matthew Lerch and featuring the CRKT's Fire Safe button/thumb stud: depressing it while slightly rotating to open the blade. This intuitive movement engages the OutBurst assisted opening mechanism, which opens the blade fully so it's locked and ready to use.
From there, the Moxie handle grabs the user's attention with a truly unique grip pattern molded into the streamlined, double density form. There is a softer, tactile area combined with a firmer structural shape, and the handle scales are fully supported with stainless steel liners. Owners are really going going to love its feather lite feel and "grippy" surface; the Moxie is also simple to carry all day long, thanks to its deep carry clip along with a handy lanyard loop for added options.
The CRKT Moxie is available in three attractive color combinations − black on black handle, black on green handle and black on gray handle. So, if you're looking for a great all around knife with enough "moxie" to get the job done, you should get your hands on one of these. MSRP is slated to reach US$69.99 in America.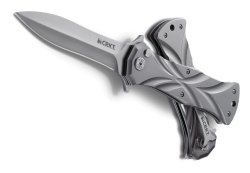 CRKT - Columbia River Knife & Tool
Knife enthusiasts will also recognize the heritage of the time honored design with a modern flare in the Tighe Dye model, designed by Brian Tighe. Anodized aluminum handle scales are shaped and formed for fully functional grip while still paying attention to visual detail throughout. And the full-length, stainless steel liners provide solid structure without bulk.
A feather lite, symmetrical blade shape is razor sharpened along one edge, and is high-polished for the ultimate look. The full hand guard shaped tang functions as an effective blade flipper for opening. Solid lockup comes from the positive interference bar, which fully engages the blade tang, and is disengaged with a push button release. The Tighe Dye's attention to detail is further exposed with a nicely done deep carry pocket clip, and the custom like pivot head. The Tighe Dye knife manufacturer's suggested retail price is $89.99.
CRKT - Columbia River Knife & Tool
Another great design from Brian Tighe, the Tighe Coon is a handy design  that feels as comfortable clipped into your jeans pocket as it does your dress slacks.
A useful every day carry knife needs to offer great cutting utility, and the Tighe Coon does. The clip point blade shape is sharp, easy to control, and easy to get to with its flipper style opener, or you can also use the ambidextrous thumb-studs. Once open, a positive interference lock bar engages the tang for secure lockup. To release and close the blade, you need simply to push the lock release button.
CRKT executed Brian Tighe's handle design perfectly in its gray color anodized aluminum scales with molded texture rib inserts, stainless steel InterFrame construction and overall grip friendly shape. You are sure to appreciate the balanced feel in this cutting tool.

The Tighe Coon knife manufacturer's suggested retail price is $79.99.
Whether you are just looking for something simple for every day chores, or something more with added functional style to class things up a bit, the Tighe Coon richly delivers!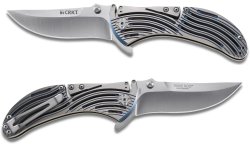 CRKT - Columbia River Knife & Tool
Last, but not least, is the Tighe Rod, whose stainless steel handles are masterfully "skeletonized" with flowing cut outs and lines creating a dynamic visual as well as lightening the load. An arguably robust handle form fills your grip and feels solid in the hand. The added blue color of the titanium nitride coating is a nice addition as well.
Rock solid blade lockup comes from the "Klecker Lock" that is uniquely formed within the steel scales, effectively creating a modern lockback design. And the generous, deep bellied, hollow ground blade can be actuated with use of either the blade flipper, or the ambidextrous thumb-studs. Both move the blade smoothly with the help of a series of caged ball bearings in the pivot. The Tighe Rod knife manufacturer's suggested retail price is US$175.00.