Article also available in other languages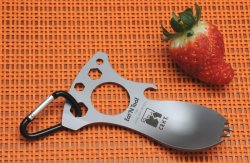 There are several outdoor tools in the CRLT catalogue, one of the most fancies being the Eat'nTool, designed by Malaysian born knifemaler Liong Mah. Basically it is a one piece spoon and fork hybrid with additional tools. The combination of spoon and fork is not new, and usually these hybrids are referred as "spork; what is new is the increased versatility of this compact sized tool.  Eat'nTool can be used as a spoon, as a short tuned fork , but is also a bottle opener, a screwdriver and three metric wrench reliefs (10 mm, 8 mm, 6 mm) are useful for emergency repairs. A small carabiner (non weight bearing) allows to the hang the tool to a cloth or backpack

Eat'nTool was fancy but not flawless. The main limit was the short lenght of the tool that made it difficult to use the spoon/fork to catch or stir  food from cans and pouches. Also the lack of a fully functional can opener was an issue. The first version of  Eat'nTool is stylish and well conceived, but more at ease at a finger food party than into the wild.
With the new Eat'nTool XL (for Extra Large) Liong Mah went back to the design desk and resolved the problem, designing a longer (6,13 inches), heavier and more slender tools that looks more like a traditional spoon but offers increased proficiency. The handle now allows a firm grip and a longer reach and features a can opener, a screwdriver and a wrench for  ½ inch, 7/16, 3/16, 3/8, 1/4, 11 mm and 8 mm bolts.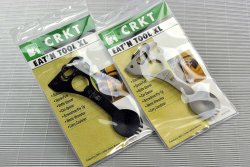 The tool is also equipped with the same carabiner as the first version and is made from a single piece of 3CR13 inox steel satin finished or black coated. The XL version of Eat'ntool is far more versatile than its little brother, especially for outdoorsman who like to carry in their backpack  pouched or canned food. Weight and lenght are increased but the tool is still one of the lightest available.
This product is cheaper than a Mountain House food ration, and will surely help the Eat'nTool XL to become a best seller worldwide.