The trend of modern "tactical", utility or combat tomahawks has been a well established one for many years now, at least since Peter LaGana introduced its modern tomahawks for the Vietnam War in the late 1960s.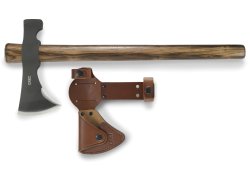 CRKT, a company well-known to enthusiasts for its knives and tools, already introduced an original design with the Woods Chogan T-Hawk in 2014. Now, CRKY is releasing a new exclusive edition with a black magnesium phosphate coating on the tomahawk head for corrosion resistance and an aesthetically striking firewood-burned handle.
The Black Woods Chogan T-Hawk – this its full name – is an impressive multi-task, heavy duty tool: a two-handed camp axe, featuring a classic design with flat-ground primary and secondary edge bevels to enhance both profile and chopping power. 

CRKT Black Woods Chogan T-Hawk: features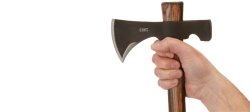 With an overall length of 19.13 in, some 485 mm, this is not quite a pocket tool. The carbon steel blade sports an axe cutting edge and a hammerhead on the other side, making the Black Woods Chogan T-Hawk also useful for driving tent stakes in the ground and for other mundane but necessary chores when outdoors. As said, the head has a magnesium-phosphate coating for corrosion resistance and black look. The beautiful and comfortable handle is made from Tennessee hickory, cut thick, artfully burned, and finished with a sturdy lacquer coat.
The Black Woods Chogan T-Hawk sells at 69.99 USD. Adding that it is shipped complete with a leather sheath, and considering its qualities and ruggedness, the price is not steep at all.
CRKT Black Woods Chogan T-Hawk: technical data
| | |
| --- | --- |
| Model:   | Black Woods Chogan T-Hawk  |
| Blade length: | 3.500 in / 88.9 mm |
| Blade edge: | axe w/hammer |
| Blade steel: | 1055 Carbon Steel, 50-55 HRC |
| Blade finish: | magnesium phosphate coating |
| Blade thickness: | 0.52 in / 13.21 mm |
| Overall Length: | 19.13 in / 485.9 mm |
| Weight: | 1 lb. 15.9 oz. / 903 g |