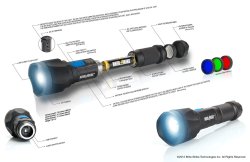 BriteStrike Technologies, Inc.
In the United States, dashboard cameras are now universally installed on squad cars to provide real-time monitoring of Police activities, to gather any element that could possibly be admissible as evidences in a court of low, and to protect both citizens from Police misconduct and officers, departments and municipalities, State and Federal authorities from frivolous lawsuits. A number of small-size cameras have been developed to be integrated in gunlights and target designators for the same purpose, to provide documentation every time an officer is forced to fire, or just to draw, his/her sidearm. Now BriteStrike Technologies Inc., a Florida-based company founded by two retired Police officers to provide tactical and professional-grade lighting instruments, brings the concept one step further with the DLC-200 "Duty Light Camera", a heavy-duty, high-power flashlight with an integrated audio/video recorder that is now available not just to military and law enforcement personnel but also to civilians and private security operators.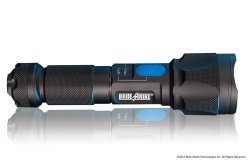 BriteStrike Technologies, Inc.
The BriteStrike DLC-200 "Duty Light Camera" is entirely made out of 6061 aircraft-grade aluminum with a black anodized finish. The main tube is divided in two sections, linked by hydrophobic-coated threads: the lower part houses the battery and the tailcap that dubs as a storage for a spare light filter or diffuser, while the upper part houses the head and integrates a CMOS color video camera with an active array size of 640x480 pixels and a 58° viewing angle, also featuring a digital microphone with vibration isolation that can withstand the percussion of a .50-caliber gun.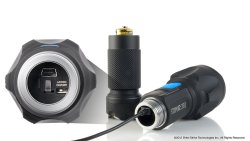 BriteStrike Technologies, Inc.
The head of the DLC-200 "Duty Light Camera" also houses a small control panel that features an on/off switch for the microphone and an USB port that allows to download the recorded data on any personal computer through an USB cable. The DLC-200 features a 4Gb integrated memory (a capacity that does for up to six hours of records in .AVI format). Its run-time can span from 2,5 hours to 8 hours depending on power settings, thanks to its single high-efficiency rechargeable Lithium battery. A 120 volt AC recharger and a 12 volt vehicle charger come included.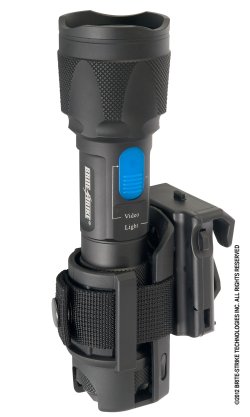 BriteStrike Technologies, Inc.
BriteStrike's DLC-200 "Duty Light Camera" is 7.5 inches long, has a 2-inches head diameter, an 1.8-inches base diameter, and weights 14 ounces with battery inserted. Its single LED exceeds 50,000 hours of service life, and can provide up to 200 lumens of output, controlled by the rear, raised and ribbed portion of the blue button located on top of the flashlight body, that acts both as an on/off switch and as a selector for low-intensity discharge (up to 80 lumens), high-intensity discharge (up to 200 lumens) or strobe for signals. Four different light diffusers/filters are available for the DLC-200 "Duty Light Camera": white/transparent for normal use, blue for forensics, red for night vision, green for map reading. Audio and video recording is activated through the front, smooth and flush portion of the same button; a one-second count video delay prevents accidental activation/deactivation.
---
For further information

BriteStrike Technologies, Inc.
11 Raffaele Road - Camelot Industrial Park
Plymouth, MA

02360 U.S.A.
Tel.: 001-508-746-8701