BriteStrike Technologies Inc. is a small yet dynamic enterprise based out of Plymouth (Massachussets), founded by two Police officers who were simply not satisfied with what the "top makers of tactical lights" were offering on the professional market. All throughout the years, the Company has introduced on the market a series of very interesting products based on innovative technologies, such as the brand-new-for-2012 APALS system.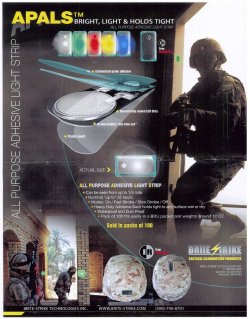 BriteStrike Technologies, Inc.
Standing "All-Purpose Adhesive Light Strip", the APALS system has been conceived with contributions from military operators that often come to be deployed in MOUT (Military Operations on Urban Terrain) missions, especially in Afghanistan and Iraq. Said situations can become tense and confused very quickly, rising the risk of "Blue-on-Blue" (that is, friendly fire), particularly if a lot of friendly forces are on the field with poor or no contact whatsoever with one another. Law enforcement officers in the biggest cities or tasked to high risk duties such as narcotics busts can often face similar unpredictable situation, with the lack of uniforms for some services actually exacerbating the risk of lethal disgraces and fratricides. The use of an highly portable and effective friendly forces identification system as the APALS, always handy and color-coded, might provide an additional security measure against friendly fire accidents.
BriteStrike Technologies, Inc.
BriteStrike's APALS' technology is simple yet effective, and represents the key into maintaining the system both reliable and affordable. Each APALS strip is composed of a micro-led powered by a small battery and a basic electric circuit, all enclosed into a plastic seal that makes it waterproof and sandproof and equipped with a commercial-grade adhesive layer that will allow the use of the APALS on basically any surface (helmets, uniforms, tactical vests, weapons, vehicles, even walls), and will ensure that it will not be peeled off by elements. The built-in battery has a 35+ hours lasting time, and the patented "Tactical Touch©" switch provides On/Fast Strobe/Slow Strobe/Off functionalities, allowing the user to save battery power for when it's actually needed. The APALS' light can be seen from up to ¼ mile away. A pack of 100 APALS strips will easily fit in a BDU pocket and weights only about 12 oz.; new for 2012 also are the patent pending flexible crushproof packs which prevent accidental activation, a common problem with chemical light sticks.
The APALS strips are disposable, and can be purchased by the general public on the BriteStrike Technologies, Inc. website for a price that ranges from 44 US$ for a 10 pack to 400 US$ for a 100 pack. Strips are color-coded in six tones (blue, amber, white, green, pink and red) to allow operators to identify their own and other team members; a seventh option with true IR capabilities generates a light that can only be seen through infrared devices, and is available to military and law enforcement customers only.
---
For further information
BriteStrike Technologies, Inc.
11 Raffaele Road - Camelot Industrial Park
Plymouth, MA

02360 - U.S.A.
Tel.: 001-508-746-8701