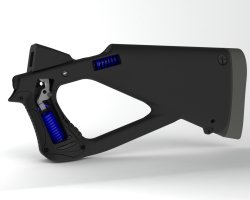 Blackhawk rifle stocks and rifle accessories provide shooters with valuable features that get the job done. Whether used for special applications or just patrolling the streets, the complete line of Knoxx Axiom II rifle stocks and the adjustable AR/M4 buttstocks deliver increased confidence to shooters when the shot presents itself.
Blackhawk! Knoxx Axiom II rifle stocks deliver superior performance, and the BLACKHAWK! AR/M4 adjustable buttstock provides shooters with a durable high-impact carbine buttstock. Each Knoxx Axiom II rifle stock utilizes the Knoxx Recoil Suppression Technology, which reduces felt recoil up to 85 percent. BLACKHAWK! continues to provide stocks and accessories that increase shooter confidence and accuracy whether on duty or in the field.
For pain-free accuracy, the  Blackhawk  Knoxx Axiom II Ultra-Light (UL) and Thumbhole (TH) rifle stocks combine the benefits of dual recoil-compensation systems for Reduced  felt recoil with the lightweight resilience of a fiberglass-reinforced polymer forestock.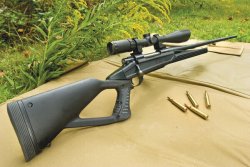 Incorporating a traditional-style rifle forend, an ambidextrous thumbhole pistol grip and a dual recoil-compensation system, the Axiom II TH elevates shooting performance. With an 85 percent reduction in felt recoil, the innovative stock design gives shooters added confidence when it is needed the most. For individual customization, the Knoxx Axiom II TH features interchangeable rubber pistol grip and forend inserts for an ideal fit.  The lightweight, durable polymer construction of the stock and 13 ¾ -inch length-of-pull allows shooters to comfortably use the rifle in a variety of shooting positions, while making all rifle calibers easier to handle. The rugged, fiberglass-reinforced polymer construction with aluminum pillar bedding ensures stability on any bolt-action rifle and the completely free-floated barrel channel fits all barrel diameters. 
Featuring a convenient, 14-cubic inch, rear storage compartment the Knoxx Axiom II TH gives shooters ample storage for shooting and cleaning supplies. Ambidextrous in nature, the Knoxx Axiom II TH is designed to cut muzzle rise for faster target acquisition. The Knoxx Axiom II TH is standard with a traditional comb and is compatible with bipods. Utilizing the proven Knoxx Recoil Suppression Technology, the Axiom II UL rifle stock effectively eliminates shoulder fatigue, harsh recoil, muzzle rise and other related injuries. Shooters, whether law enforcement, hunters or recreational, will find the ergonomic pistol grip and forend well suited for a variety of shooting situations.  With a rapid-adjust seven-position stock, the Axiom II UL weighs only two pounds, nine ounces, giving shooters a lightweight, durable stock that delivers remarkable comfort when shooting bolt-action rifles. The stock's aluminum pillar bedding provides increased stability and its all-weather construction is well suited for any environment. 
Each Knoxx Axiom II rifle stock is easily installed and available in Black or King's Desert Shadow camo finish.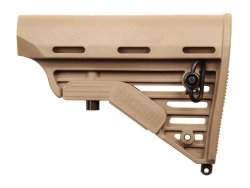 Adjustable, Durable and Ready to Rock
The  Blackhawk ! Adjustable AR/M4 buttstock is made of a durable, high-impact polymer that is designed for quick and easy adjustment with multiple sling attachment options. Law enforcement and shooting enthusiast understand that quick means efficiency. The adjustable AR/M4 buttstock is precision fit for quick and smooth length adjustment. Designed with comfortable cheek weld and featuring ambidextrous sling mounting locations, the AR/M4 buttstock is available in Black, Olive Drab and Desert Tan.