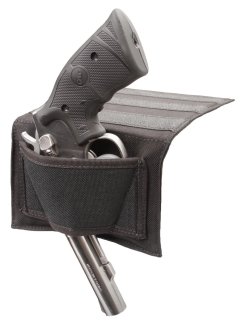 BLACKHAWK! Products Group
BLACKHAWK! holster and accessory items are a welcome addition to the world of weapon storage, concealment and convenience. For quick and easy access to firearms in the home, the BLACKHAWK! "Bedside Holster" offers a perfect solution. 
Offering an innovative solution to weapon storage and protection whether on or off-duty, BLACKHAWK!'s advanced line of carry and storage options are known throughout the shooting community for their convenience and practicity. More and more civilian shooters are addressing to BLACKHAWK! for their daily concealed carry and gun custody needs, especially given the extreme success that their professional products line − the SERPA holster above all − exacted worldwide within Police and Military forces alike.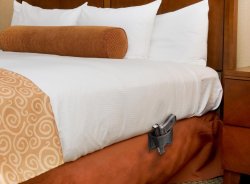 BLACKHAWK! Products Group
The new BLACKHAWK! "Bedside Holster"  answers the long-time question of firearm accessibility during the night. With its unique design, the holster's mounting platform slips securely between a mattress and box springs. The holster's universal-fit makes it a viable option for most any home-defense handgun, making it readily available when time is of the essence. Compliant for both revolvers and semi-auto pistols, the bedside holster features HawkTex™ material for extra stability and its ambidextrous platform is easily used on either side of the bed.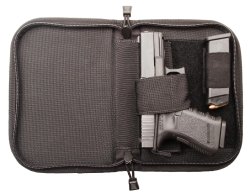 BLACKHAWK! Products Group
Designed to offer a practical solution for firearm concealment and protection, the new BLACKHAWK! "Day Planner Holster" is a creative solution for on-the-go carry. With the external appearance of a full-size or small day planner, entirely made out of 1000 deniers CORDURA nylon, the new holster's simple design eliminates bulk and fits multiple firearms. The day planner includes options for spare magazine storage and the double zipper allows quick access. Available in both large and small/medium sizes, the new holster easily conceals personal protection firearms for discreet carry.