Article also available in other languages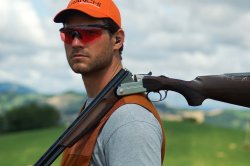 My bad! Ever since they first appeared, around fifteen years ago, even in the hands of famous, expert hunters, they never appealed me that much. Just swanking, I though. Even if they're right, it's just a fad, I thought...
I was miserably wrong! Under all intents and purposes, that's not only "swanking" nowadays, but a new, increasingly popular way to intend hunting practice, a true cultural phenomenon between hunters. What am I talking about? Isn't that obvious? Small-calibre shotguns, tuned and used for hunting, even with hounds or gun dogs.
Yeah, these are no cheap shooters any longer: enough with barren designs and small stocks, these are now comfortable, practical guns, extremely easy to handle and extremely efficient from a ballistic standpoint, conceived and manufactured under the same quality and functionality standards as their 12-gauge and 20-gauge "bigger brothers".

As a matter of fact, there's no major manufacturer of hunting shotguns today who hasn't at least one of these in production – or about to be launched. All, of course, homaging a fair, responsible view of what hunting should be.
Now, could the "youngest", most aggressive Italian hunting shotguns manufacture skip this test? That's a trick question of course, so, let's see what Franchi's new deal "bad boys" came out with, this time...
Break-open, of course...

Let's get it straight, we all know that the Franchi name always meant one thing and focused on one concept and one only: the best value for money in shotguns conceived for real hunters looking for totally reliable tools. The concept worked well for a long time, and suited old generations of hunters just fine; it still works today, having Franchi renewed everything – and I mean everything – to please the 3rd Millennium hunters!

Let's get it straight, we all know that the Franchi name always meant one thing and focused on one concept and one only: the best value for money in shotguns conceived for real hunters looking for totally reliable tools. The concept worked well for a long time, and suited old generations of hunters just fine; it still works today, having Franchi renewed everything – and I mean everything – to please the 3rd Millennium hunters!
These hunters who still see hunting as a fantastic sport, conceived as a lifestyle and as true love for whatever's nice, functional, and goes at a fair price, no matter if the shotgun is a semi-automatic or a Break-Open design. Well, in this case, especially if it's a Break-open design.
So, here they are, the two Feeling models, a fresh start for Franchi's line of over-and-under shotguns. 28-gauge and .410-gauge, first of all. Odd thing to do, almost a heresy up to not-too-much-time-ago, back when 12-gauge and 20-gauge were always due to come out first.
But not today, not now, not in Franchi, a brand that's aiming to a great global revamping through their own vision of the "Think Different" Apple philosophy: always dare to renew and do something astonishing.
With hindsight, after seeing these pictures, what can we say other than "Mission Accomplished"?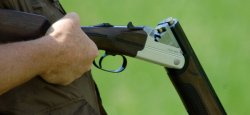 At a quick glance, these two O&U shotguns look like a twin set. It's both a right, and a wrong assumption to make. As a matter of fact, they both use the same ERGAL-55 lightweight aluminium alloy break-open frame, but as for the rest, everything is different – although still in line with the company products' profile. So to speak: all stocks are perfect, all of them, and so are the metal parts, the barrels above all; it all sums up in making two extraordinary guns out of a perfect equilibrium of greatly crafted parts.
Barrels are available in 68 and 71 cm. lenghts, so to satisfy the needs of all they typical shooters' categories that may be interested in this kind of shotguns. Both models are based upon a "Software" that sums up in the Franchi's tradition: a mix of reliability, practicality and sturdiness that turns them into true battlehorses, complete with automatic extractors, box-lock, selective single trigger.
So... it's the "Hardware" that changes. And it changes a lot.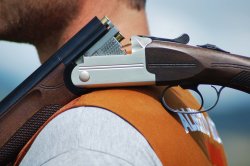 Franchi decided to go with a minimalist design for these two new O&Us, much like they did with the "Affinity" semi-automatic shotguns. Essential, clean, no bells and whistles, much like... an iPhone, so to speak, and that's exactly the sensation you get with the new Franchi "Feeling": a specialized tool, a purely hunting shotgun, but for smart sportsmen who see hunt as a lifestyle, a part of a whole with their own life rather than as an ancient world that slowly and painfully tries to adapt itself to modernity.
They give the idea of machines made by other machines: accurate, robust, functional, clean, perfect!
So to speak: the visual sensation is the same you'd have with a Japanese Katana sword rather than with a richly engraved Spanish sword of the 17th Century; or with an Audi TT, rather than with an all-bells-and-whistles oldtimer. Touching them is like listening to some lounge music rather than a Bach's Fugue (although you can distinctly hear some House music in the background!).
Franchi's new "Feeling" O&Us are sold in blaze orange hard cases that represent a reminder to these very same hunting safety rules that the fine folks at Franchi consider some sort of religion − just as we all do here. Hunting is a pleasure and so it must remain, maniacs and fanatics are not welcome here!
Franchi's "Feeling" shotguns also come factory-issued with three interchangeable chokes (others are sold as aftermarket accessories), a bottle of lubricating oil, and the user manual − although the "Feeling" is so user-friendly that you'd hardly think the manual to be of any use at all.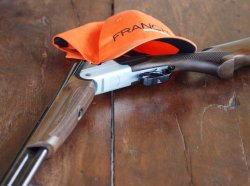 As a matter of fact, the Franchi "Feeling" O&Us can be assembled in a bliss − all assemblies are perfectly planned and executed with CNC machineries − and are quickly ready for hunting, sports shooting or simple handling.

As soon as you may handle one, you'll immediately notice two things: almost custom-like balance and the perfectly gripping checkering on the pistol grip and handguard, obtained through a triple laser treatment. It will feel... yours, as if you had been owning it for a lifetime.
The Franchi "Feeling" O&Us feature high-visibility, red fiber-optic sights, well-proportioned for the 6mm rib.

The trigger guard is wide, just perfect for big-handed shooters, and will make things much easier when hunting in bad weather conditions and using gloves.
The "industrial-style" look of the receiver is somewhat an eresy for Franchi's aesthetic canons, but it isn't actually bad to watch: all the opposite indeed, as it features a very pretty satin finish, much akin to the ones used on semi-automatic shotguns, although based on a new generation, patent pending procedure that makes it 100% virtual scratchproof and will resist to anything, even the harshest environmental conditions.

All in all, that's what it is: a hunting shotgun. So, I decided to give it a try on a hunting trip.
Market launch: a 2-days event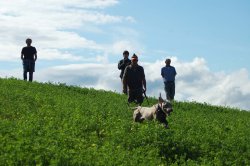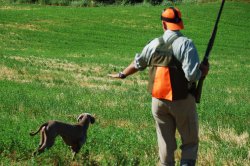 The Franchi company summoned the most important members of the specialized press in Urbino, on the third week of June, for the launch of the "Feeling" 28-gauge and .410-gauge shotguns. Everybody from TV to press and Web was there, so we definitely couldn't miss it.
Bruno Beccaria, the "boss" − impeccable as usual, even thrilling from time to time − ran a presentation of the "Feeling" shotguns at 7 p.m. of Wednesday, July 19th. A sundowner and a private dinner with the VIPs of the Italian hunting and gunwriters' community ensued. The main event was scheduled next day in Cagli, at the Montefeltro hunting cabin and reserve, where we would have field-tested the new guns.
It was a perfect day, with a fresh morning and a nice sun that didn't turn too hot up until 10 to 10:30 a.m.
We were well split in groups, with dogs, and we hunted down game that had been freed in the area for some time nowm so that we could ran a true test.
I just tried the 28-gauge version − I'm setting up a video trial for the .410-gauge variant though − and all went even better than expected. Shot-to-hit ration was incredible, and I was barely conscious of how many spare shotshells I had in my pouch.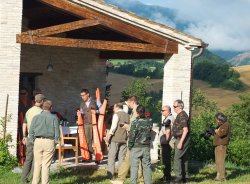 Light weight: this is the additional value of small calibers, and when it combines to such an incredible ease of purpose, the gun becomes a true dream to shoot, with virtually no recoil. That's what I felt, and I even had the lightest "Feeling" variant in my hands − 28-gauge and ERGAL lightweight aluminium alloy frame.
What else to say? It's a masterpiece of a gun, a true jewels for these "epicurean" sportsmen who know the joy of hunting and the joy of life. And, as a matter of fact, the day folded at the Montefeltro hunting reserve with a nice banquet, quite a few enthusiastic comments, and a toast to whatever new is cooking at Franchi's for the near future!
TECHNICAL SPECS - STEEL RECEIVER VARIANT

| | | | | | | | | |
| --- | --- | --- | --- | --- | --- | --- | --- | --- |
| Receiver | Stock and handguard | Gauge | Weight | Buttpad | Chamber | Barrel lenght, inch. | Stock comb | Chokes |
| Steel | Grade 1 walnut, oiled | 28 | 6.28 | Rubber | 2-¾" | 26, 28 | 57 | *, ***, **** 50 mm |
| Steel | Grade 1 walnut, oiled | .410 | 6.5 | Rubber | 3" | 26, 28 | 57 | *, ***, **** 50 mm |
TECHNICAL SPECS - ALUMINIUM ALLOY RECEIVER

| | | | | | | | | |
| --- | --- | --- | --- | --- | --- | --- | --- | --- |
| Receiver | Stock and handguard | Gauge | Weight, oz. (approx) | Buttpad | Chamber | Barrel lenght, inch. | Stock comb | Chokes |
| ERGAL-55 lightweight aluminium alloy | Grade 1 walnut, oiled | 28 | 5.18 | Rubber | 2-¾" | 26, 28 | 57 | *, ***, **** 50 mm |
| ERGAL-55 lightweight aluminium alloy | Grade 1 walnut, oiled | .410 | 5.40 | Rubber | 3" | 26, 28 | 57 | *, ***, **** 50 mm |