This video has been hidden because of an external service (YouTube) that could potentially collect personal data.Allow video services for the duration of the visitAllow video servicesStop allowing video services
Here at ALL4SHOOTERS.COM, we have been following the development and marketing process for the Browning A5 shotgun − sometimes also addressed to as the "New A5" − for quite a while now. Reason is quite simple. We truly believe that the "new Humpback" totally has what it takes to replicate the success of the "Auto-5", world's first semi-automatic shotgun, conceived and engineered by John Moses Browning himself, and kept in production by FN/Browning for over a century.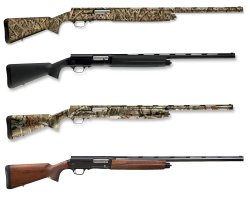 Browning's new A5 represent the "3rd Millennium generation" of the classic "humpback", with modern materials and techniques used during the manufacturing process, and featuring a new inertia-driven working system that will perform flawlessly with any kind of ammunition and in all conditions, so to give hunters and shooters worldwide an efficient, trustworthy companion to rely upon for years, and possibly decades, to come − its motto is "Come hell or high water", and damn sure it's fit! And yet, the fine folks at Browning International think that the design hasn't expressed its full potential yet... it can be still tinkered with to achieve new heights.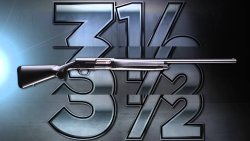 That's what led Browning to come out with the new A5 variant chambered for ¾-inch shotshells. Also called "Supermagnum" in Europe and elsewhere, the ¾-inch shotshells sport an 89mm case that simply allows for greater range and esponentially higher stopping power, either with conventional/traditional ammunition or with steelshots. Waterfowl and wild turkey hunters in north America know the 12-gauge, ¾-inch caliber very well, and they warm-heartly appreciate its performance levels. Northern and eastern-European hunters also like the "superiority factor" of ¾-inch shotshells, especially when facing wild boars or other hard-to-kill preys.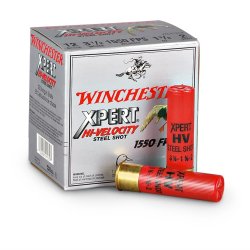 The launch of the Browning A5 in 12-gauge "Supermagnum" caliber marks the first ever recoil-operated 3½" Browning shotgun.
Five A5 models will be chambered in the new 3½", 12-gauge: A5 in "Mossy Oak Shadow Grass Blades", "Realtree MAX-4" or "Mossy Oak Break-Up Infinity" camouflage, A5 "Stalker" (full black finish on both synthetic furniture and mtal parts) and A5 "Hunter" (wooden furniture, black finish on metal parts).
The recoil-operated "Kinematic Drive System" allows the A5 to cycle a wide range of loads.
The A5 features the Vector-Pro lengthened forcing cone and the new Invector-DS choke tube system to deliver tight, consistent shot patterns. To reduce felt recoil, the A5 comes with an Inflex II recoil pad.
A5 3½" models are available with barrel lengths of 26″, 28″ and 30″. Composite-stock models feature Dura-Touch Armor Coating that gives shooters a better grip in wet hunting conditions. The A5 "Hunter" features a gloss finish walnut stock. Manufacturer's suggested retail price for the Browning A5 3½" models in the United States only reaches 1,699.99US$ for the "Hunter", "Mossy Oak Shadow Grass Blades", "Realtree MAX-4" and "Mossy Oak Break-Up Infinity" models, while it reaches 1,599.99US$ for the A5 "Stalker" variant.