Presented at IWA 2018, the new 12 Magnum SL3 over-under represents a new milestone for Beretta that, in order to realize this shotgun, put in place the best technology as well as  the highest craftsmanship his skillful gunsmiths can express.
The result is a gun where we find concentrated all the Beretta experience and technology. To design it the Italian company chose a different approach from the one commonly followed to produce high-end models: instead of improving a lower-end model, it started from the qualitative peak, that is the S010 platform, simplifying it slightly and making some changes, such as in the design of the opening lever.
Beretta SL3 over-under: luxuriously reliable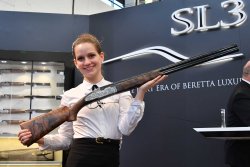 The first thing that can be noticed when observing the SL3 is the rounded and streamlined receiver, with a proprietary locking system based on three anchoring points: hinge pins, lower hooks and locking pins.
The advantage offered by this system is a firmer locking, while ensuring a great smoothness in the opening and closing movements.
The trigger group uses a set of leaf springs, similar to the one used on the Beretta shotguns, ensuring a crisp and quick release. The trigger is a selective single type.

The barrels, as now usual for Beretta rifles, benefit from the Steelium treatment. They are cold hammered and then vacuum distended. The Optima Bore HP internal geometry ensures a uniform shot distribution, even using ammunition with steel pellets. The Beretta SL3 over-under is available with 26, 28, 30 or  32 in (66, 71, 76 and 81 cm) long barrels.
The stock has undergone a revisitation too. It's made of particularly nice grade 4 walnut wood. Despite being available with checkered grip surfaces, in our opinion the option without checkerings is more consistent with the refined elegance of the Beretta SL3.
The receiver is available with different engraving variants and in a spectacular mirror-polished version. But the exclusivity of the SL3 over-under does not end here and extends beyond the confines of the gun itself: it is in fact the first Beretta rifle accompanied by a dedicated case, entirely hand-made in the new "Custom Gun Case Atelier". Among the case features there is the blue canvas outer shell with hand-stitched leather corners and details, the burgundy cotton lining. Lastly, the mirror-polished closing buckles take inspiration from the receiver's profile.
The price of the Beretta SL3 starts at 19,900 euro.
Beretta SL3: technical data
| | |
| --- | --- |
| Type:  | over-under shotgun |
| Purpose:  | hunting |
| Gauge:  | 12/76 |
| Barrel length: | 26, 28, 30 or  32 in (66, 71, 76 and 81 cm) |
| Trigger:  | single, selective |
| Stock:  | walnut grade 4 |
| Weight:  | 7,1 lbs / 3,250 g |
| Price:  | starting from 19,900 euros |