In Beretta's catalog of hunting semiautos we find the A300 Outlander, a simple and no-frill model. It is a sturdy 12 gauge shotgun with a 3" (Magnum) chamber and a 28"/71 cm barrel characterized by a traditional look, a light alloy receiver with a burnished finish and select walnut furniture including a very classic stock and a slender forend. The newly designed magazine cap is plastic and provides an attachment for the carrying sling. In addition to the basic version, in its catalog Beretta also has a Silver version, featuring an Old silver finish, and a camouflage-finished Camo version.


The main feature of the new Beretta A300 Outlander semiautomatic is its simplicity, with a design based on reducing the number of parts, true to the motto that what is not there can't break. The Beretta A300 Outlander can be disassembled intofour major components to allow for faster stripping and maintenance. And we know that a clean gun is also a reliable one.
The A300 Outlander has a gas-operated system that combines the proven Beretta locking system with a revised and improved gas cylinder and piston assembly that automatically bleeds off any excess pressure caused by very powerful ammunition. Without requiring interventions or adjustments of any kind, the Outlander can therefore fire some of the weakest cartridges with a 70 mm (24 grams) shell, as well as at the most powerful 12/76 loads (57 grams of lead).
The system is also self-cleaning, which further reduces fouling accumulation, extending the time between one cleaning session and the next.
The trigger guard – the trigger is chrome-plated – is made of polymer with a rounded, beveled profile, and incorporates the reversible manual safety button, which is oversized. In the event of the rifle being dropped, a raised edge around the button prevents unwanted movements.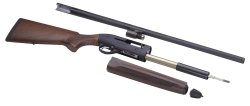 MauroPezzotta, © MauroPezzotta
The barrel is made from cold roto-forged steel and is proofed for the use of steel shot. The Mobilchoke internal profile with an extended connection cone between the chamber and the barrel bore improves patterns and helps reduce felt recoil on the shooter's shoulder.
Beretta's Mobilchoke nickel-plated steel internal chokes with a longer cone have an internal profile that reduces friction with the shot, improving the density and distribution of patterns. They are suitable for use with steel shot ammunition.
The Beretta A300 Outlander in video
This video has been hidden because of an external service (YouTube) that could potentially collect personal data.Allow video services for the duration of the visitAllow video servicesStop allowing video services
Beretta A300 Outlander specs and price
| | |
| --- | --- |
| Manufacturer: | Beretta |
| Model: | A300 Outlander |
| Type : | Semiautomatic shotgun |
| Action: | Gas operated |
| Intended use: | Hunting |
| Gauge: | 12/76 |
| Barrel Length: | 61, 66, 71, or 76 cm |
| Overall Length: | 31.8"/81 cm |
| Chokes: | Internal, MC-3 type |
| Sights Iron: | flip-up |
| Magazine Capacity: | 2+1, 5+1, or 10+1 shots |
| Weight: | 7.25 lb/3288 g |
| Price: | 1134 euro |