Strasser, as the original tooling company, has been in the business of producing quality for 75 years. For example, the precision engineering specialists were even involved in the production of rocket parts for Ariane 5. For the past 25 years, the Austrians have also been dedicated to building high-quality rifles. Strasser's latest achievement is the RS14 Evolution hunting rifle, with a factory-integrated Picatinny rail. 
Strasser's vast experience in manufacturing innovative precision products also flowed into new accessories: since last year, Strasser has been producing a sophisticated bipod called Bipod One, or bONE for short. Thanks to universal adapters, this not only looks great on an RS14 Evolution. 
We will now show you Strasser's current products in more detail, starting with the new RS14 Evolution Unic Carbon bolt-action rifle. 
Strasser RS14 Evolution Unic Carbon: a lightweight premium repeater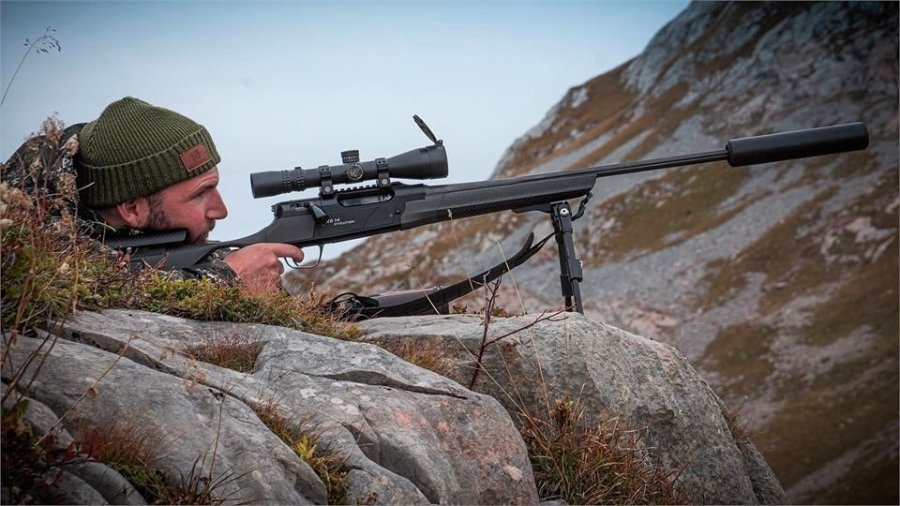 Strasser has had the RS14 Evolution straight-pull bolt-action rifle on the market for seven years now, the latest version of its modular RS14, featuring a permanently installed Picatinny rail for even greater stability. Now Strasser introduces the RS14 Evolution Unic Carbon with a perforated stock in lightweight construction, which should be of interest to hunters and sport shooters alike. 
Designers at the Salzburg family-owned company designed the premium RS14 Evolution straight-pull bolt-action rifle to meet the highest quality standards on the one hand, and to be extensively and easily modifiable on the other. the bolt, trigger and barrel of the RS14 Evolution can be replaced in just a few simple steps – the necessary tools are integrated into the rifle itself in an amazingly elegant way.  
The Strasser RS is widely renowned for the buttery smoothness of its bolt action. When changing the caliber group between mini, standard and magnum calibers, the replacement of the bolt head is also quickly done here. 
Strasser's "B-EX Barrel Exchange System" allows for repeatable caliber changes with interchangeable barrels that is probably unique in its simplicity and precision. The same rifle can be converted with all 26 available calibers from .222 Rem. to .458 Win. Mag. within one minute. Also available from Strasser are various barrel configurations (short, long, match grade, open sights, etc.). For users who do not want to change barrels, the respective model is also available with a fixed barrel under the designation RS Solo Evolution at a lower price.
Strasser RS14 Evolution Unic Carbon: maximum modifiability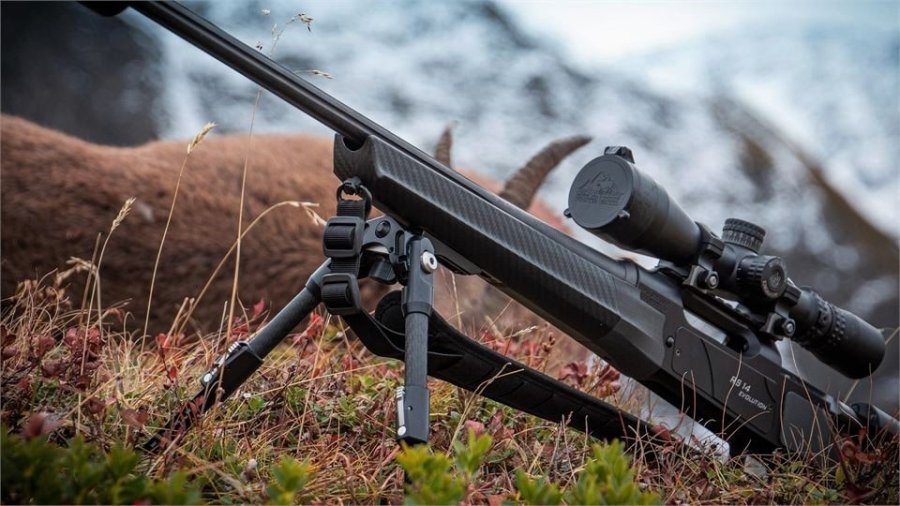 Strasser is also known for its high-quality and particularly crisp triggers. All models come with combined single-stage set trigger in three pull weights – the set trigger can be adjusted to any pull weight. Changing the trigger group also requires no tools: for precision shooters, the new NX trigger with a 680-gram pull weight and a very short, crisp trigger travel is available as an option. This pure single-stage trigger has a length-adjustable trigger blade and a perfect trigger stop: every Strasser RS14 can be equipped with the new NX trigger group at the factory for an additional charge. 
This also applies to the new Strasser RS14 Evolution Unic Carbon, which, with its lightweight carbon fiber construction, is particularly recommended for walked-up and mountain hunting. Shooting performance is also said to be noticeably improved once again thanks to the reduced recoil. The Strasser RS14 Evolution Unic Carbon with a perforated stock and adjustable cheek piece comes with an integrated M-LOK rail in the fore-end at prices starting at 5,529 euros. And that brings us to another new product from Strasser, also with carbon elements: the ultra-flexible bONE bipod.
Strasser RS14 Evolution Unic Carbon straight pull bolt-action rifle specs and prices
| | |
| --- | --- |
| Model: | Strasser RS14 Evolution Unic Carbon |
| Calibers: | 26 calibers from .222 Rem. to .458 Win. Mag. |
| Barrel Length: | Standard and mini calibers: 22"/56 cm / Magnum calibers: 24"/60 cm |
| Overall Length: | Standard and mini calibers: 42"/108 cm,  / Magnum calibers: 44"/112 cm. |
| Weight: | Standard and mini calibers: 6.6 lb/3.0 kg / Magnum calibers: 6.8 lb/3.1 kg |
| Price: | from 5.529 euro / without barrel change option from 4.964 euro |
Strasser bONE bipod: highest flexibility for hunting and sports
This video has been hidden because of an external service (YouTube) that could potentially collect personal data.Allow video services for the duration of the visitAllow video servicesStop allowing video services
Strasser presents the bONE, a convincingly versatile bipod for hunters, sportsmen and long range shooters. The goal in developing the bONE was to achieve maximum flexibility in use. To this end, an attempt was made to combine design approaches of already existing bipods for different disciplines in one product. The bONE is intended to be a crossover of the best features of existing bipods: the sport shooter needs static stability, whereas the hunter needs to adapt to his environment in nature. The designers at Strasser tried to unite both worlds. 
A key feature of a bipod is, of course, stability: the bONE bipod is made of high-alloy aluminum, with particularly stable carbon on its legs. All components of the bONE are of the highest quality and are all manufactured at the Strasser site itself in Salzburg, Austria. There are non-slip rubber feet for a secure footing, but they can be folded up as needed: hardened steel tips emerge, which drill into the ground on appropriate terrain to give the gun even more grip.
Strasser bONE bipod: a durable "all-in-one" bipod 
The bONE's telescoping legs can be extended to a length of 7.5-10.5 inches independently in eight steps. In addition, it is possible to mount the gun tilted on its own axis on the bONE with just one movement. This allows the rifle to be adjusted quickly and with maximum flexibility to suit terrain conditions and personal preferences. The Strasser bONE's detent positions are at 0, 45 and 90 degrees. 
Horizontal traversing at approximately 20 degrees is possible on the spring-loaded 90-degree detent: the shooter swivels the rifle into position, then either pushes it slightly forward or pulls it backward, which locks the bONE in place and allows for a safe and stable shot. This allows, for example, flexible tracking of a target without having to lift the entire rifle and reposition it. Ingenious! 
There's no need to worry about a lack of compatibility either: with seven available adapters ranging from M-LOK to Picatinny, the Strasser bONE bipod can be combined with all modern sporting and law enforcement rifles. 
With the bONE, Strasser seems to have indeed succeeded in creating an all-round bipod that should meet all the requirements of hunters and sport shooters in all conceivable situations. 
The recommended retail price of the Strasser bONE bipod is 310 euros. The price range of the adapters for different systems is between 66 and 103 euro.
Strasser bONE bipod specs  and price
| | |
| --- | --- |
| Model:  | Strasser bONE |
| Weight: | 270 g |
| Leg Length: | 7,5" - 10,5" |
| Feet: | Non-slip rubber feet / hardened steel tips |
| Locking Positions: | 0 - 45 - 90 degrees (swivels to 90 degree position) |
| Available Adapters: | M-LOK, KeyMod, Universal, US/Euro sling swivels, Blaser |
| Price: | 310 euro |
---
Further information about the Strasser RS14 Evolution Unic Carbon and bONE can be found on the manufacturers website.