If you are convinced of the imminent arrival of the Zombie Apocalypse or if you are planning a definitive escape in the forests of Alaska, the latest version of the super-classic Marlin 1895 lever carbine is for you. Simply called "Dark", this special version stands out for the black matte parkerized finish of the metal parts coupled with a black-webbed hardwood stock .
Marlin 1895 Dark - powerful and useful

To underline its survivalist ambitions, the gun is equipped with a Paracord carrying sling, which in addition to being comfortable and indestructible, in case of need can be undone providing almost thirty meters of very strong nylon cord.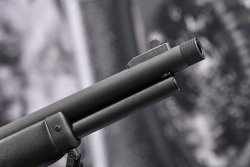 Franco Palamaro, © F.PALAMARO
Another Paracord wrapping is also present on the cocking lever, which is of the "big loop" type – that is, enlarged to facilitate the use of the gun even when wearing thick winter gloves.
The Marlin 1895 Dark is chambered for the powerful .45/70 caliber and features a 16.25" / 41 cm barrel with a threaded muzzle for the mounting of a suppressor or a mouth brake. The rifle's overall length is 34.6" / 88 cm, for an weight (unloaded) of 7.7 lb / 3.5 kg.
The tubular magazine under the barrel holds five cartridges. The sights consist of a ghost ring peep rear sight and a ramp-mounted blade front sight. A low-profile Picatinny rail allows for quick mounting of conventional and red dot optics.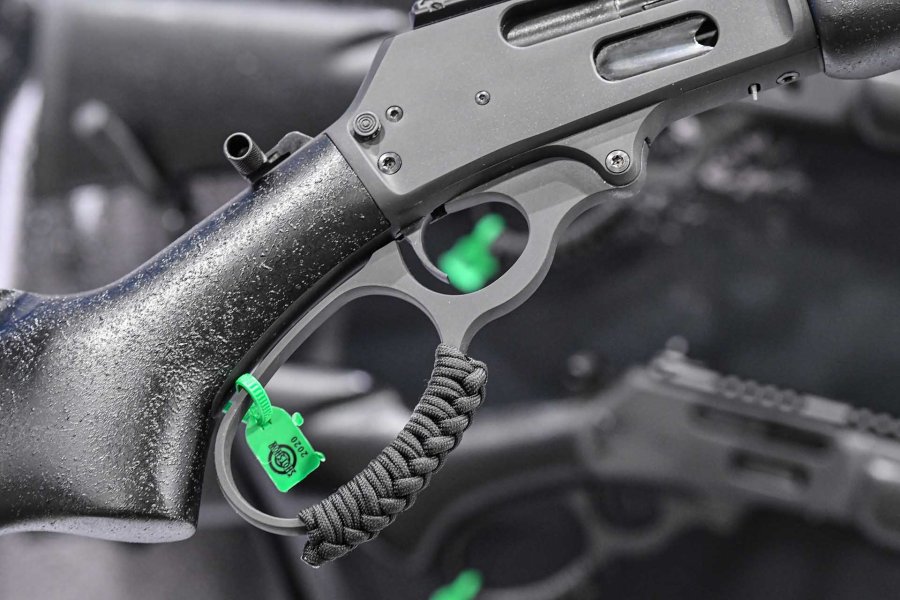 Franco Palamaro, © F.PALAMARO
The stock is walnut wood, painted with black webbing that facilitates a firm grip of the gun even with wet hands; the recoil pad is made of thick rubber. The price in the USA is about 820 USD.
Beyond the aggressive and nocturnal aesthetics, the Marlin 1895 Dark is as an extremely powerful and, above all, very handy survival gun, chambered for a cartridge that in the modern versions is able to cleanly shoot down even large and very tough wild game. Let alone zombies...
| | |
| --- | --- |
| Manufacturer: | Marlin Firearms |
| Model:  | 1895 Dark |
| Type: | lever-action rifle |
| Caliber: | .45/70 |
| Barrel length: | 16.25" / 41 cm |
| Overall length: | 34.6" / 88 cm |
| Magazine capacity: | 5 rounds |
| Weight: | 7.7 lb / 3.5 Kg |
| Finish: | parkerized metal parts, painted stock |
| Price:  | 820 USD (price may vary in your country due to VAT and import duties) |