Earlier this year Henry introduced a new line of Side Gate Loading Lever Actions, featuring both a standard removable tube magazine for safe and easy unloading and a side loading gate to keep the magazine topped off. Initially chambered only in 30-30 Win, .38-55 Win, and .35 Rem., the line now adds two models: a .410 bore shotgun and a rifle chambered in the classic .45-70 caliber, aka .45-70 Government.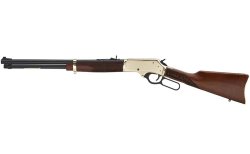 The two new models share the same technical and aesthetical features of the other versions, namely hardened brass receiver with the same yield and tensile strength as steel, American walnut furniture, and above all the characteristic loading gate on the right side of the receiver below the ejection port, coupled with Henry's historically inspired removable tube magazine. As explained by the manufacturer, "Having these two methods of loading and unloading allows the shooter to safely unload the firearm without working live rounds through the action and keep the magazine topped off through the side gate. The result is a rifle that lets you use it in whatever way works best for you."
Henry Side Gate Loading Lever Actions, for hunting and shooting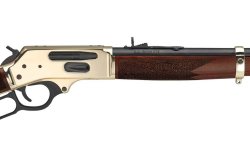 The .410 shotgun uses the same rifle sights with the fully adjustable semi-buckhorn rear and ivory bead front sight. Magazine capacity is 5 rounds. The smoothbore steel barrel is cylinder choked to control shot pattern, where the muzzle end of the barrel constricts slightly. It's well-suited for close-in hunting situations and instinctive point-and-shoot, but it can also be used for clay shooting.
Like all the other rifle models, the .45-70 Government side gate loading lever rifle is intended both for target shooting and hunting, including large game such as elk and deer up to 125 yards. Magazine capacity here is four rounds.

"Real feedback and product suggestions from people that are out there using our rifles and shotguns carries a lot of weight and it's what drives a lot of our product development. Our release of the Side Gate Lever Action earlier this year, and these new calibers are a great example of that," says Henry Repeating Arms President and Owner, Anthony Imperato.   Andy Wickstrom, Vice President and General Manager of Henry Repeating Arms adds, "As soon as we came out with the first round of Side Gate Lever Actions we started getting requests for additional calibers. Both .410 and .45-70 were way up there, so it's great that we can satisfy those that requested it now."

All the guns in the Side Gate Lever Action series promise great fun and are drilled and tapped for a scope. Last but not least, the new .45-70 rifle and .410 shotgun, also have the same price of all models in the series, at 1045 USD (MSRP).