From he renowned London gunmaker John Rigby and Co., a tribute to Switzerland and the famous precision of the 7.5x55 Swiss caliber in the form of a very limited series of just 52 rifles created in collaboration with specialists from firearms importer Sell-In-Swiss. The idea is that two of these rifles are made for each of Switzerland's 26 cantons. From the company,  founded in 1775 and boasting more than 240 years of gunmaking experience, they explain that"the design is derived from Rigby's legendary Highland Stalker rifle, echoing its elegance and simplicity, but the aesthetics and features mark the Swiss Rigby Rifle out as a truly unique firearm. As with all Rigby rifles, indicated by the mantra 'fit for purpose', the Swiss Rigby Rifle embodies robustness, precision and functional reliability in a rifle that any discerning hunter would be proud to carry."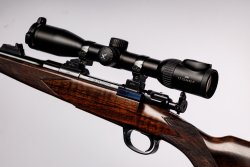 The individual rifles in the series are numbered on the magazine floor, which also showcases the caliber and the designation "Swiss Limited Edition". The manufacturer states that "this design will never be reissued and is not being included in the Rigby catalogue," adding that "It is truly limited to these 52 pieces, and there are already plenty of famous names from the hunting world already lining up to take a closer look".
Each Swiss Rigby rifle will be delivered in a beautiful hand-manufactured gun case whose interior and exterior design and colours have been meticulously chosen to ensure the case is a totally new design, marking the significance of this collection. 
In the Swiss Rigby rifle, the 7.5x55 Swiss caliber – well known to shooters for its intrinsic accuracy – is combined with an open sight and rear diopter so that the gun shoots to extreme precision and can shoot without difficulty from 300 m, the standard length of a Swiss rifle range. 
Swiss Limited Edition, all the advantages of exclusivity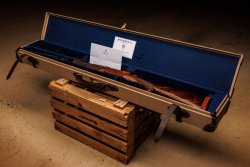 Marc Newton, managing director of John Rigby and Co. comments: "Rigby is known around the world for our superb game rifles and rich heritage of gunmaking, and we have made plenty of rifles for Africa, India and more locally, Scotland. It's been a privilege and a pleasure to collaborate with Sell-In-Swiss on this project and branch out to new territories and calibres. I'm immensely proud of what our gunmakers have produced here and know that these rifles will be treasured and by their owners and be taken to some of the most spectacular corners of the world for the job they were made for – hunting. There are only ever going to be this collection of 52 pieces in existence. Once the mould is broken, we won't be doing this ever again."
Rigby claims that purchasing a Swiss Rigby rifle will grant 52 lucky individuals the privilege of seeing their name included in a piece of living history: in addition to having their name handwritten in that famous Rigby's ledger (that includes the names of Jim Corbett, Winston Churchill, and various members of different royal families), each owner of a Swiss Limited Edition will also become a member of an exclusive new club from the moment their rifle is commissioned. The private Swiss Rigby Club is only for those 52 owners of the Swiss Rigby and will be "a gathering point for people who are passionate about hunting, that famous Swiss calibre and Rigby as a brand". The exclusive club will be a forum for members to share their hunting experiences with their rifle. Moreover, there will be sporting challenges complete with both kudos and trophies for the winners, and even an exclusive collection of members' clothing complete with the iconic Rigby 'double-R' branding. 
As can be expected, price is to be disclosed: if interested, you should contact John Rigby & Co.