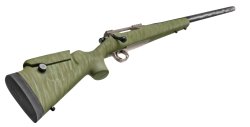 The newest Proof Research's long-range hunting platform for the toughest and most challenging hunting environments: here comes the The Tundra rifle, that combines "the adjustability and performance of a tactical rifle, with the design necessary to meet the demands of high-country hunting," according to the manufacturer's claim. Described as the next generation of Proof Research's Terminus model and designed as a lightweight hunting firearm, The Tundra boasts a starting weight of just 7 lbs. 3 oz, or 3260 g approx. This is thanks to its carbon fiber stock and a Sendero contour carbon fiber barrel with sub ½ MOA accuracy guarantee. No iron sights are provided by default, but a single piece pinned optics rail is on top of the action.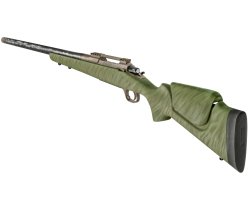 The Tundra's stock also features an adjustable Monte Carlo-style cheek piece for a customized fit. Standard length of pull is 13 5/8 inches, but custom options are available. Other highlights include the BDL-style magazine that should ensure perfect cartridge seating every time and a smooth feed, and a TriggerTech trigger with very short reset for more accurate follow-up shots.
"The design of a Monte Carlo stock is timeless and a long running staple for hunting rifles. We took this timeless design to the next level by adding adjustability. At 7lbs., the Tundra is an already incredible hunting platform, before the addition of any optics or muzzle devices," Kelly Streiff, Vice President of Sales & Marketing for Proof Research, explains. "The last thing a hunter needs to worry about is the weight of their rifle system. There are many lightweight rifles out there, but many come sacrificing  accuracy for weight. The Tundra embodies everything that we stand for, which is to develop a lightweight rifle that maintains and delivers extreme long-range accuracy."
Proof Reserach The Tundra, a wide choice of calibers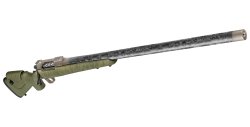 The Tundra is built around a Defiance Ruckus bolt-action with a guaranteed headspace of +/-.001" – which means it's one of the most accurate actions for long-range hunting. As for the patented Sendero contour carbon fiber barrel, it is specifically designed for long-range accuracy and performance. Proof Research is particularly proud of the aerospace-grade carbon fiber used, which has a specific strength up to 30 times that of stainless steel and a specific stiffness up to 7 times greater than steel. More importantly as far as accuracy is concerned, the helical wrapping pattern favors the longitudinal thermal diffusivity of the carbon fibers (along the length of the barrel) and move heat through the wall (thickness) of the barrel. This allows to maintain accuracy over longer sessions of fire. The barrel is 24"/26" long depending on caliber and threaded (5/8-24) with a thread protector for the installation of any aftermarket muzzle device.
The Tundra is offered in a very wide range of calibers: 6CM, 6.5 CM, 6.5 PRC, 7 Rem.Mag.,  .28 Nosler, .308 Win., .300 WM, .300 WSM, .300 PRC, .300 RUM, .338 Lapua. Options include the finish color choices of Black Granite, Green Granite, Brown Granite, Tactical Flat Dark Earth, Black Jungle Camo, Blue Jungle Camo, Green Jungle Camo, Desert Warrior, Grassland Green, Grassland Tan, and Cotton Candy. Price (MSRP in the US) is $6999 for the Black Granite, Green Granite, Brown Granite versions, and $7199 for all the other finishes, regardless of caliber.