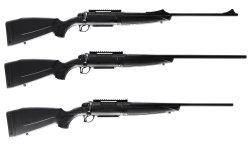 Bergara Rifles - DIKAR S.Coop.
In the course of my work as a gunwriter, I often came to discuss market and technical trends with big and small gunmakers alike, and this year, most of these discussions were aimed towards some big changes that the world of hunters is going through. Although in the past hunters were considered a completely different kind of people from sports shooters − particularly in Europe, but not much different in north America, they tended to practice shooting only when the hunting season was open! − they're now more kin to practice target shooting when hunting season is off, and even when they're tracking their prey, they ask for tools that would provide the same levels of range and accuracy as a target-shooting rifle: is the future of hunting rifles aimed towards a generation of hybrid guns patterned after mid-to-high-grade competition weapons? It may well be − especially given the fact that another of the new trends for hunters in Europe and north America includes purchasing "one size fits all" rifles and carbines that'd be as much "all-purpose" as possible, not only to serve both as hunting and shooting instruments, but to perform decently in all the possible variants of the two sports.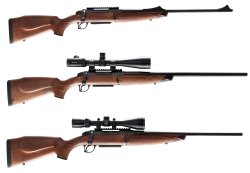 Bergara Rifles - DIKAR S.Coop.
A thorough consideration of these new trends is probably what led Bergara Rifles − a company headquartered in the town of the Spanish Basque Country of which it bears the name − to develop and launch its first bolt-action rifle ever, conceived to meet the needs of modern sportsmen. Dubbed the BX11, the new Bergara rifle was first showcased at the IWA expo in Nuremberg (Germany) last March, and is now available mostly everywhere in the world for civilian purchases. Designed with a good eye at aesthetics, the Bergara BX11 sports quite a look that appeases both lovers of classic-style guns and those who appreciate more functional, modern products. Fed through four-rounds or five-rounds single-stack metal magazines with a polymer pad, the BX11 sports all metal parts − barrel included − manufactured out of AISI-4140 carbon steel; its action features two locking lugs head, and the cocking handle has a 60 degrees movement angle. A two-positions safety lever − located on the rear right side of the action, right behind the cocking handle − and a top MIL-STD-1913 "Picatinny" rail are also provided.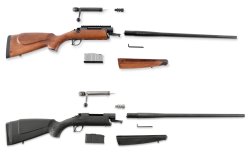 Bergara Rifles - DIKAR S.Coop.
The BX11 rifle is available in three baseline variants: the Standard model comes equipped with a 23" barrel and fixed, battue-type sights with high-visibilty inserts; the Varmint model comes with a 24" barrel, while the Light model is equipped with a mere 20-inches barrel. The three models can also be divided into two sub-families, depending from the type of furniture: the Black versions feature a high-resistance black polymer stock and handguard with Soft Touch inserts, while the Mad versions ("Mad" standing for 'Madeira' − "Wood" in Spanish) come with American walnut furniture, with checkered palisander inserts in these parts that the shooter needs to catch a firmer grip of when handling or shooting the rifle. Overall lenght may vary from roughly 41 to 45 inches according to barrel lenghts; similarly, overall weight without magazine will be in the 3 Kilograms (6.61 pounds) range for all models, with minor variations depending from caliber and barrel lenght.
This video has been hidden because of an external service (YouTube) that could potentially collect personal data.Allow video services for the duration of the visitAllow video servicesStop allowing video services
Unlike most of their competitors, though, Bergara BX11 rifles are astonishing in their modularity and versatility: all barrels and most all parts and components from all models are interchangeable with all others, which makes easier for shooters and hunters to get ahold on spare parts should the need arise. But that's not all: this means that, simply by changing some parts, owners can set their Bergara BX11 rifles according to their needs and preferences for any specific moment, type of hunt or shooting sport they're practicing right there and then... and the Bergara BX11 can be easily converted from and to any caliber in the available range, through the simple replacement of the barrel and the detachable magazine, allowing owners to further exploit the flexibility of the platform for different hunting and shooting practices.
This video has been hidden because of an external service (YouTube) that could potentially collect personal data.Allow video services for the duration of the visitAllow video servicesStop allowing video services
Available calibers − from and to which the Bergara BX11 can be converted − are as follow: .243 Winchester, 6.5x55mm SE, .270 Winchester, 7x64mm, 7mm Remington Magnum, .308 Winchester, .30-06 Springfield, .300-Winchester Magnum, 8x57mm JS, 8x68S, 9.3x62mm e .375 H&H Magnum. Basically, that's the twelve most popular chamberings for sports shooting and hunting in Europe and north America. The bolt head is universal for standard calibers: should the shooter convert his/her BX11 from a standard to a magnum chambering, it should be replaced as well. The trigger can be set as well, from a 2.2 to a 4.4 pounds weight. Overall, the Bergara BX11 appears to be an excellent choice for all those versatile sportsmen who like to spend their free days at the range when hunting season is not open: albeit a little bit more expensive than other Bergara products − the company had to tool up with totally new machineries and other technologies to come out with this gun! − the BX11 is a true investment that will allow their owners to save in the future: no more need to buy three or more guns for different hunting and shooting specialties and to fire ammunition in different calibers, all you need is here in just one rifle.