At Seekins Precision they show no shyness in introducing their new HIT rifle: "We work toward perfection, and the release of the HIT brings us closer than anyone has gotten so far." 

Presented as "the most innovative bolt rifle available anywhere", the HIT is a hunting purpose-built chassis rifle. The action features an integrated 20 MOA rail, recoil lug, extended thread tenon and flat bottom. According to the manufacturer, its superior strength requires no need for bedding into the chassis, and headspace is guaranteed "while offering a solution for the shooter to effortlessly change barrels" – indeed, Seekins Precision head space tenon specifications are available open-source to anyone who wants to offer a drop-in barrel. Calibers already available range from 6mm GT and 6mm Creedmore to .308 Winchester (see specs below for more info). Trigger is R700 compatible.
Seekins Precision HIT rifle, easy barrel change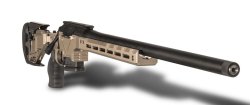 The HIT comes factory with a 24"/609 mm muzzle-threaded barrel. The bolt can be quickly swapped with no need of tools from standard to magnum calibers. Extractor is M16-style The chassis is foldable for easy of transportation and storage, and length of pull and cheek height can be adjusted with no need of tools. The recoil pad is fully adjustable too. 
The list of additional features is actually pretty long:
Carbon fiber cheek piece
Bag rider
Adjustable height magazine latch
Folding stock over bolt
M-Lok pattern forearm
Enhanced magwel design for AI pattern mags
Barricade stop
AR-style vertical grip
Optional forward-mounted top rail
Optional Arca Swiss rail designed specifically for HIT chassis
The new Seekins Precision HIT rifle is offered in two colors, black or FDE. Whatever color or caliber you choose price is the same, that is $2100. A pro model with upgraded components and competition enhancements will be available soon, they promise. For the moment being, anyway, the HIT is available in the US only.
Seekins Precision HIT rifle specs and price

| | |
| --- | --- |
| Overall Length:  | 43.5"/1105 mm |
| Length Folded:  | 34.5"/876 mm |
| Weight: | 11.5 lb/5.2 kg |
| Action:  | Changeable bolt head |
| Barrel Length:  | 24"/609 mm with LT Tactical contour, 5R rifling and 5/8-24 muzzle thread with thread protector |
| Calibers Available:  | 6mm GT, 6mm Creedmoor, 6.5mm Creedmoor, 6.5 PRC, .308 Winchester |
| Price:  | 2100 USD |
| Note:  | Quick-change barrel system |