© Three Six Seven Nine Photography
Emma got her first gundog (working Cocker) three years ago, "I wanted to train her properly so I contacted Sandford Gundogs. It was through training Leia and realising she needed more, not just a walk but mental stimulation, I started beating on a friend's family shoot. Then I was invited on Mike and Caroline's (of Sandford Gundogs) shoot and still couldn't get enough which led to me being on a commercial shoot. I absolutely loved doing it all and still loved training my dog out of season.'" In May 2018, Emma added to her gundogs when she fell in love with two of Leia's pups. They are now in training and "showing great promise".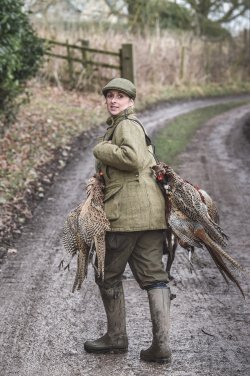 Michael Hope-Smith, © Three Six Seven Nine Photography
In 2018, Emma started working at Henmores, a country store, "I love how everyone I know from my country pursuits can drop in and see me and I can help them whether it's gear needed for in the field or sneaky presents for wives/husbands."
In March last year, she started shooting and in August she bought her first gun, a 20 gauge Beretta Silver Pigeon, and shoots as often as time allows. She has enjoyed Ladies days at Yeaveley Estate with the Cheshire Fillies, a BASC organised ladies duck flight, taken part in rough shoots and vermin control, and is looking forward to a few end of season days on the peg. "Shooting was the next step for me. With all the beating I was doing the next sensible step was picking up a gun and trying the other side. I believe in conservation and understand that it is very much needed to support the economy. I enjoy the shooting but also enjoy eating what has been shot, and I have also made things from the feathers and the empty cartridges, so nothing is wasted."
"Any day out in the countryside is a good one. I couldn't choose between spending time with the dogs, my gun or both. I love being able to do it all."

---
Who is our author Linda Mellor?
Linda Mellor is one of Scotland's foremost shooting, fishing and hunting female writers and photographers. She is the product Ambassador for Venator Pro, a premier hunting company and stockist of the European brand Hillman. With a lifetime of countryside experience, Linda's passion, enthusiasm and respect for the outdoors and hunting is explored and shared across her writing and photography. 
For more information on Linda Mellor, please visit Linda Mellor's website, Twitter (LindaMellor) and instagram (linda_mellor).