Hanna loves her shooting, and was brought up surrounded by country sports, and worked alongside her dad, a gamekeeper on the Isle of Mull, Scotland, and "loved every minute of it!" She studied gamekeeping at Elmwood college in Fife, and although she currently works outdoors doing drystone walling and pest control, she would love to do more gamekeeping.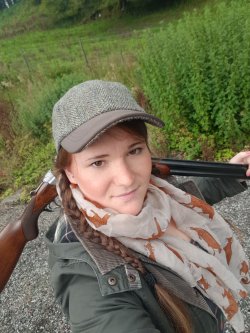 Hanna's dad taught her everything there is to know about gamekeeping, she worked with him for nine years. "It was amazing, we put down 1000 pheasant poults on the estate, it was just a small family shoot for the estate owner, he owns two big sporting estates elsewhere and didn't want the one on Mull to be anything like his others. The main quarry for the shoot days were pheasant, woodcock, snipe, rabbit and sometimes pigeons."
Working at shoot on Mull was challenging due to the adverse weather but they had many "record breaking days". Hanna was 20 weeks pregnant, and had to take charge of the owner's son's shoot day when her dad had to rush an ill dog to the vets (it was okay). 
"I have two kids of my own and my oldest, 6 year old Brian, loves shooting and fishing.  He has his own gundog and ferrets, he would rather be out with them than being stuck inside the house glued to his tablet, and my wee lass is just learning about hunting."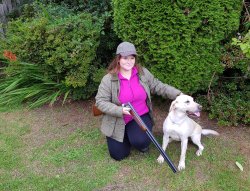 Perthshire based Hanna has taken her son out rabbit shooting since he was two, "He never understood the concept of being quiet when we were out, but as he got older he knew not to talk so much whilst we were hunting." Brian has also been out on shoot days,"I took him out beating with me but it's only been the last 2 drives to see how he got on, he loved it but had sore legs."
Hanna enjoys all shooting but prefers rifle shooting. "I don't know why I prefer looking through scopes to down a barrel but I love the fact if you are out shooting or fishing you can bring food to the table."
---
Who is our author Linda Mellor?
Linda Mellor is one of Scotland's foremost shooting, fishing and hunting female writers and photographers. She is the product Ambassador for Venator Pro, a premier hunting company and stockist of the European brand Hillman. With a lifetime of countryside experience, Linda's passion, enthusiasm and respect for the outdoors and hunting is explored and shared across her writing and photography. 
For more information on Linda Mellor, please visit Linda Mellor's website, Twitter (LindaMellor) and instagram (linda_mellor).