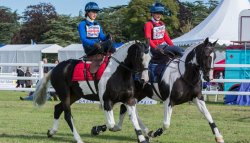 Europe's largest countryside festival is back: the Fair Game 2019 will be held from 26-28 July, in Hatfield House, Hertfordshire (UK). Created in the years immediately following World War 2, the Fair Game offers entertainment, events, exhibitions to anyone interested in hunting, fishing, falconry, gamekeeping, horses and dogs, gardens, rural business, estates and conservation, and even cooking. The Game Fair also boasts the most comprehensive outdoor shooting exhibition held anywhere in the UK, including clay, rifle and airgun shooting as well as many events and competitions. As explained by the organizers, "The Shooting Arena is in fact home to display shooting, trick-shots, demonstrations, master classes by a world champion clay shooter, heritage shooting and nail-biting finals of all main competitions. Grandstand seating for over 130 spectators will be in front of the spacious arena, visitors can expect a packed schedule of events covering all three days."
The Game Fair, the ideal place for families 
At the Game Fair you can find ideas and expert advice. But also shopping: the Gunmakers' Row is the place to view the best and newest products from British gunmakers as well as renowned names from around the world. All of the premier shooting-related companies are here in one place, offering every accessory imaginable from knives to clothing. The Fair boasts Europe's longest shooting line, run by world famous shooting ground and sporting agency, E.J. Churchill. Here visitors will find competitions, Have-a-Go booths and demonstrations. With layouts designed by multi World and European Clay Shooting Champion George Digweed MBE, the Shooting Line will support shooters of all disciplines and abilities.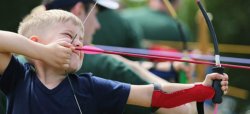 If you love archery or would like to have-a-go to see if it might be something you'd like to take up, in the Field Archery area you can talk about the sport and try your hand at a range of targets from Olympic style targets through to 3D animal targets at a range of distances. 
The Game Fair's Cookery Theatre will bring you an astonishing line-up of chefs, ideas and recipes along with expert advice, techniques and stories that will inspire you.
Awe-inspiring birds of prey, hound packs and heavy horses will also be part of the show over the three days.
Lastly, restaurants and numerous bars and catering areas around the site, and a new dedicated kid's zone, definitely make the Game Fair the ideal place even for families. Opening Times are from 6am to 7.30pm (Friday), Saturday & Sunday 6pm.